Nurturing Creativity through Arts and Crafts
Houston Daycare
At Nutcrackers Daycare Academy, we understand the immense value of arts and crafts for early childhood development. As a leading daycare academy, we believe in providing a holistic and enriching environment where children can explore their creativity, develop important skills, and enhance their cognitive abilities.
Unlocking Creativity:
Arts and crafts provide children with a unique outlet for self-expression, allowing them to explore their imagination and unleash their creativity. Through various mediums such as painting, drawing, sculpting, and crafting, children can develop their artistic abilities while expressing their thoughts, feelings, and ideas. This process not only builds confidence but also helps in developing a strong sense of identity and individuality.
Enhancing Cognitive Skills:
Engaging in arts and crafts activities at an early age has been proven to enhance cognitive skills significantly. As children experiment with different materials, colors, shapes, and textures, they are actively engaging their brains and fostering critical thinking, problem-solving, and decision-making skills. These activities also promote hand-eye coordination, fine motor skills, and spatial awareness, which are essential for overall development.
Promoting Language and Communication:
Arts and crafts provide an excellent opportunity for children to develop their language and communication skills. Through discussions, storytelling, and describing their artwork, children learn to express their thoughts and ideas effectively. This process encourages vocabulary expansion, improves articulation, and develops active listening skills, all of which are vital for effective communication and social interaction.
Fostering Social and Emotional Development:
Participating in arts and crafts activities in a daycare setting helps children develop essential social and emotional skills. Working together on group projects, sharing materials, and collaborating on creative endeavors cultivates teamwork, empathy, and cooperation. Moreover, engaging in artistic activities allows children to explore and manage their emotions, promoting self-regulation, and providing a healthy outlet for self-expression.
Creating Lifelong Learners:
By incorporating arts and crafts into our curriculum at Nutcrackers Daycare Academy, we aim to lay a strong foundation for lifelong learning. Through hands-on experiences, children develop a passion for exploration and discovery, fostering a love for learning that extends beyond their early years. The skills acquired through arts and crafts, such as problem-solving, creativity, and communication, serve as building blocks for future academic success.
Our dedicated team of educators understands that fostering creativity and providing opportunities for self-expression are essential for nurturing well-rounded individuals.
Nutcrackers Daycare Academy We are a family owned and operated academy that provides children with a strong foundation to begin their lives. Our teachers are highly trained and extremely attentive to support your child's desire to explore and discover. Our passionate staff values the relationships we have with our families and work hard to involve them in all our activities and decisions. Our facility provides an openness inside and out for a child to feel free to explore, create, and learn in a safe, loving and developmentally appropriate environment. Contact at 713-842-7796.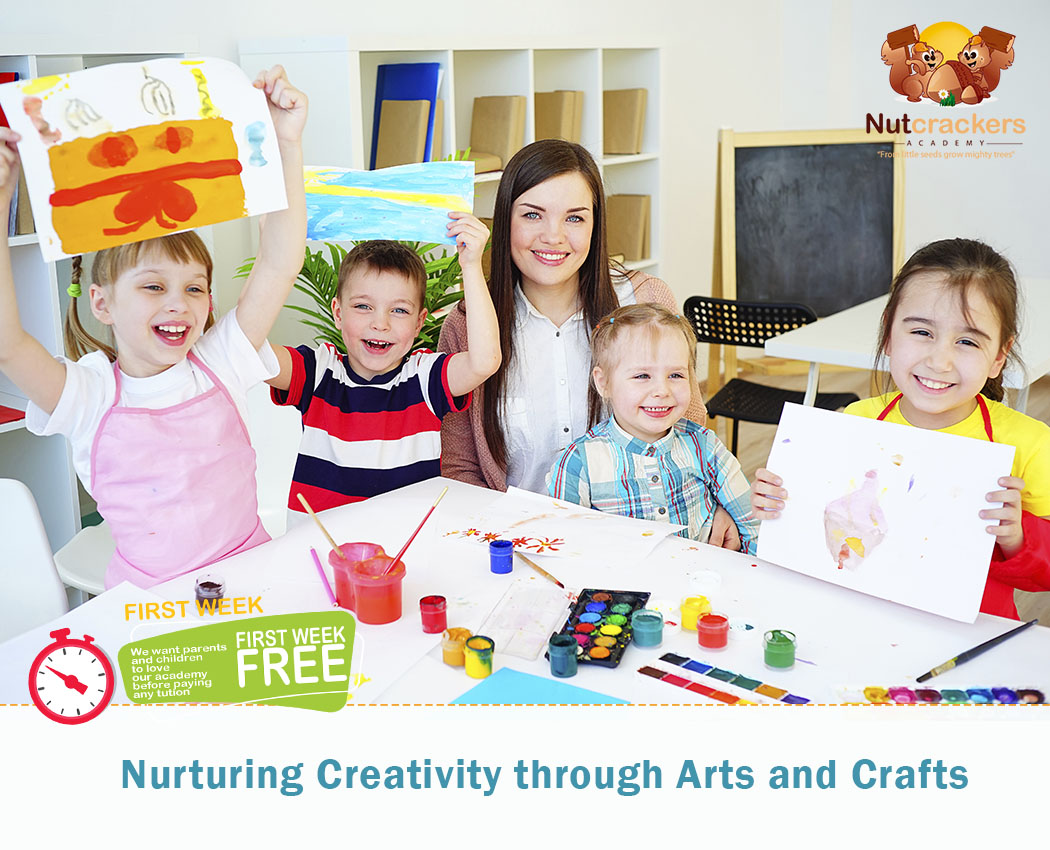 CALL US AT (713) 842-7796 | 📍 8128 Braewick DR. Houston, TX 77074 | or mail us This email address is being protected from spambots. You need JavaScript enabled to view it. Schedule a tour here:
Daycare in Houston
Day care in Houston, Infant care in Houston, Preschool academy in Houston, After school care in Houston, After school in Houston, Early childhood in Houston, Early preschool in Houston, Preschool in Houston, Child care in Houston, Private school in Houston, Preschool programs in Houston, Local daycare in Houston, Daycare center in Houston, Group child care in Houston, Family day care in Houston, Early education in HoustonDay care in Houston, Infant care in Houston, Preschool academy in Houston, After school care in Houston, After school in Houston, Early childhood in Houston, Early preschool in Houston, Preschool in Houston, Child care in Houston, Private school in Houston, Preschool programs in Houston, Local daycare in Houston, Daycare center in Houston, Group child care in Houston, Family day care in Houston, Early education in Houston, Infant daycare in Houston, Toddler daycare in Houston, Toddler care in Houston, Preschool education in Houston, Cool kindergarten in Houston, Summer camp in Houston Infant daycare in Houston, Toddler daycare in Houston, Toddler care in Houston, Preschool education in Houston, Cool kindergarten in Houston, Summer camp in Houston, Daycare and Child care Academy, Preschool and Daycare Center