Ensuring the Importance of Choosing the Right Childcare
Houston Daycare
Choosing the right childcare is a decision that can have a significant impact on your child's development and overall well-being. As parents, we want nothing but the best for our little ones, and that includes finding a daycare that provides a safe and nurturing environment.
1. A Safe and Secure Environment:
When it comes to childcare, safety should always be a top priority. Nutcrackers Daycare Academy understands the importance of providing a secure environment for your child. With a team of trained and experienced staff, advanced security measures, and a commitment to maintaining a safe space, parents can have peace of mind knowing that their child is in good hands.
2. Qualified and Caring Staff:
The staff at Nutcrackers Daycare Academy plays a crucial role in your child's daily experience. Our daycare takes pride in hiring qualified and caring professionals who are passionate about early childhood education. Each staff member undergoes thorough background checks, certifications, and continuous training to ensure they are equipped with the skills necessary to foster a positive learning environment.
3. Age-Appropriate Curriculum:
At Nutcrackers Daycare Academy, we understand that each child is unique and has different developmental needs. That's why we have designed an age-appropriate curriculum that focuses on early education, socialization, and physical activities. Our curriculum encourages children's natural curiosity and creativity and helps them develop essential skills that lay the foundation for future academic success.
4. Nurturing Socialization:
Socialization is a vital aspect of a child's growth. Nutcrackers Daycare Academy provides numerous opportunities for children to interact and engage with their peers. Through group activities, playtime, and structured learning experiences, children develop important social skills such as communication, sharing, and problem-solving. Our daycare creates a supportive community that promotes friendships and fosters a sense of belonging.
5. Nutritious Meals and Snacks:
Proper nutrition is essential for children's growth and development. Nutcrackers Daycare Academy ensures that children receive nutritious meals and snacks throughout the day. Our daycare follows age-appropriate meal plans and accommodates dietary restrictions or allergies, ensuring that every child receives a well-balanced and healthy diet.
6. Open Communication with Parents:
We believe that open and transparent communication between parents and daycare providers is crucial for the child's well-being. Nutcrackers Daycare Academy maintains a strong partnership with parents, providing regular updates on your child's progress, daily activities, and any concerns or milestones. We understand the importance of involving parents in their child's daycare journey and value their input and feedback.
Conclusion:
Choosing the right daycare is a decision that requires careful consideration. Nutcrackers Daycare Academy prioritizes the safety, well-being, and development of your child, making it an ideal choice for parents seeking a nurturing and enriching childcare experience.
Nutcrackers Daycare Academy We are a family owned and operated academy that provides children with a strong foundation to begin their lives. Our teachers are highly trained and extremely attentive to support your child's desire to explore and discover. Our passionate staff values the relationships we have with our families and work hard to involve them in all our activities and decisions. Our facility provides an openness inside and out for a child to feel free to explore, create, and learn in a safe, loving and developmentally appropriate environment. Contact at 713-842-7796.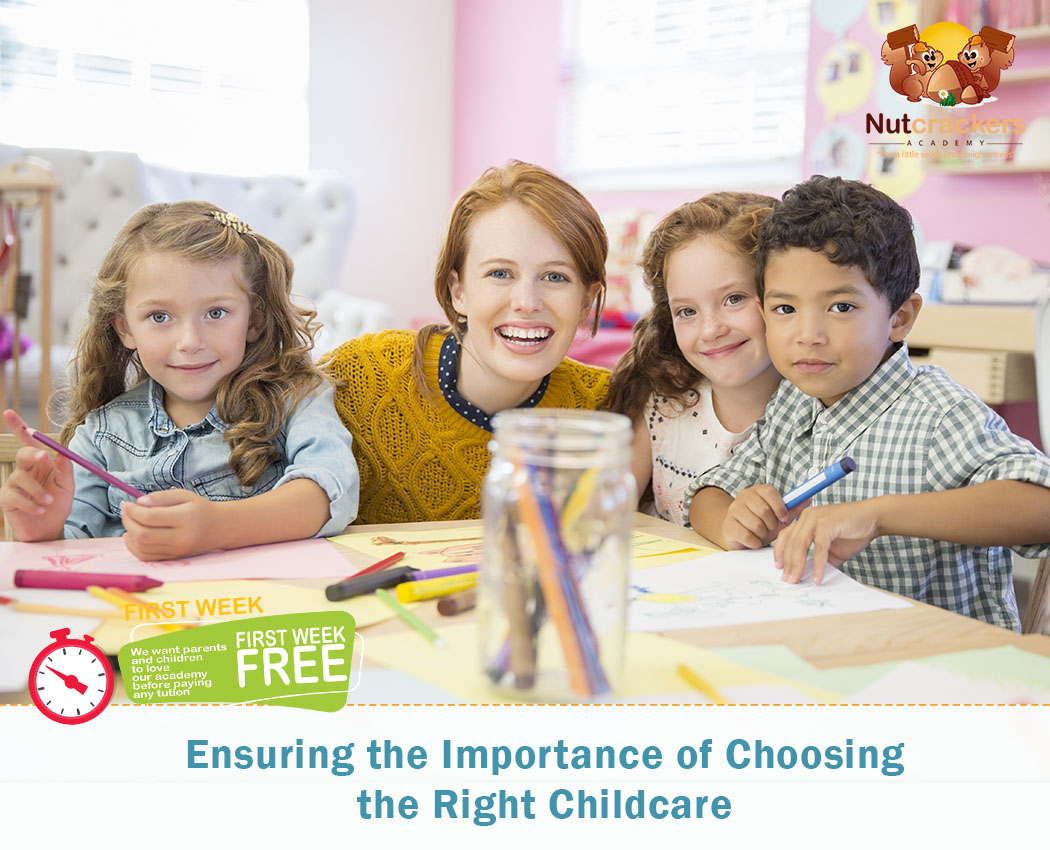 CALL US AT (713) 842-7796 | 📍 8128 Braewick DR. Houston, TX 77074 | or mail us This email address is being protected from spambots. You need JavaScript enabled to view it. Schedule a tour here:
Daycare in Houston
Day care in Houston, Infant care in Houston, Preschool academy in Houston, After school care in Houston, After school in Houston, Early childhood in Houston, Early preschool in Houston, Preschool in Houston, Child care in Houston, Private school in Houston, Preschool programs in Houston, Local daycare in Houston, Daycare center in Houston, Group child care in Houston, Family day care in Houston, Early education in HoustonDay care in Houston, Infant care in Houston, Preschool academy in Houston, After school care in Houston, After school in Houston, Early childhood in Houston, Early preschool in Houston, Preschool in Houston, Child care in Houston, Private school in Houston, Preschool programs in Houston, Local daycare in Houston, Daycare center in Houston, Group child care in Houston, Family day care in Houston, Early education in Houston, Infant daycare in Houston, Toddler daycare in Houston, Toddler care in Houston, Preschool education in Houston, Cool kindergarten in Houston, Summer camp in Houston Infant daycare in Houston, Toddler daycare in Houston, Toddler care in Houston, Preschool education in Houston, Cool kindergarten in Houston, Summer camp in Houston, Daycare and Child care Academy, Preschool and Daycare Center