Are you struggling to find the right childcare for your little one?
Houston Daycare
Look no further than Nutcrackers Daycare Academy! We understand that choosing the right daycare for your child is a big decision, and we're here to help make the process easier for you.
1. Consider Your Child's Needs: Every child is unique, and their needs should be the top priority when selecting childcare. Consider factors such as your child's age, personality, and any specific requirements they may have. Nutcrackers Daycare Academy offers age-appropriate programs and experienced caregivers who understand the individual needs of each child.
2. Ask for Recommendations: Word-of-mouth recommendations can be invaluable when selecting daycare. Reach out to friends, family, and other parents in your community to get their insights and suggestions. You'll likely find that Nutcrackers Daycare Academy has a strong reputation for providing high-quality care and early childhood education.
3. Visit the Daycare: Take the time to visit the daycare centers you are considering. This will allow you to see the environment firsthand and evaluate if it's a good fit for your child. Nutcrackers Daycare Academy welcomes parents to schedule visits where they can meet our friendly staff, explore our well-equipped facilities, and get a sense of the warm and nurturing atmosphere we provide.
4. Pay Attention to Safety Measures: Safety should be a top priority when choosing childcare. Ensure that the daycare has appropriate safety measures in place, such as secure entrances, childproofed spaces, and trained staff in CPR and first aid. Nutcrackers Daycare Academy strictly adheres to safety protocols to ensure the well-being of all children under our care.
5. Check Accreditation and Licensing: Look for daycare centers that are accredited and licensed by the relevant authorities. This ensures that they meet the required standards for safety, health, and curriculum. Nutcrackers Daycare Academy proudly holds all necessary licenses and certifications, providing parents with peace of mind.
6. Observe the Interactions: During your visit, observe how the caregivers interact with the children. Are they attentive, nurturing, and engaged? Nutcrackers Daycare Academy prides itself on our passionate and dedicated staff who create a positive and stimulating environment for children to learn and grow.
7. Discuss Daily Activities and Curriculum: Inquire about the daily activities and curriculum at the daycare. Look for a daycare like Nutcrackers Daycare Academy that offers a well-rounded program that includes educational, social, and physical activities tailored to your child's developmental stage.
Choosing the right daycare is a crucial decision for any parent. By following these tips and considering Nutcrackers Daycare Academy, you can ensure that your child receives the best possible care and early childhood education. We are committed to providing a safe, nurturing, and enriching environment for your little one to thrive. Contact Nutcrackers Daycare Academy today to schedule a visit and learn more about our daycare programs.
Nutcrackers Daycare Academy We are a family owned and operated academy that provides children with a strong foundation to begin their lives. Our teachers are highly trained and extremely attentive to support your child's desire to explore and discover. Our passionate staff values the relationships we have with our families and work hard to involve them in all our activities and decisions. Our facility provides an openness inside and out for a child to feel free to explore, create, and learn in a safe, loving and developmentally appropriate environment. Contact at 713-842-7796.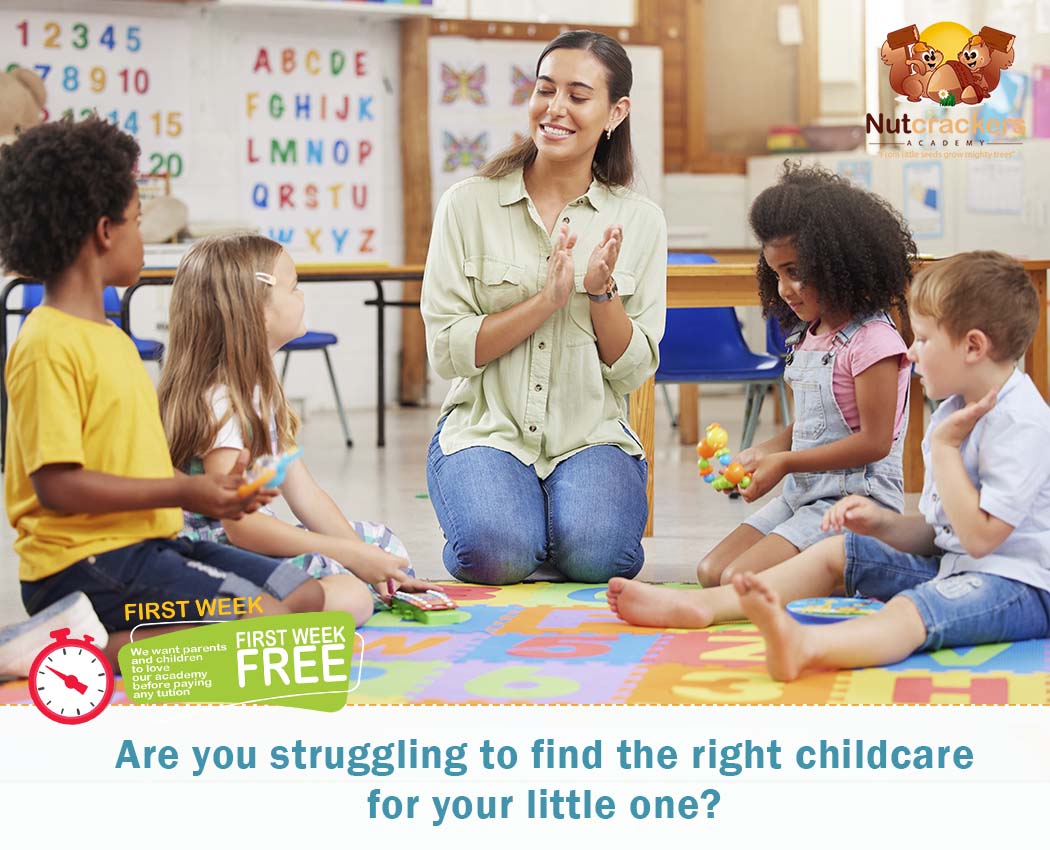 CALL US AT (713) 842-7796 | 📍 8128 Braewick DR. Houston, TX 77074 | or mail us This email address is being protected from spambots. You need JavaScript enabled to view it. Schedule a tour here:
Daycare in Houston
Day care in Houston, Infant care in Houston, Preschool academy in Houston, After school care in Houston, After school in Houston, Early childhood in Houston, Early preschool in Houston, Preschool in Houston, Child care in Houston, Private school in Houston, Preschool programs in Houston, Local daycare in Houston, Daycare center in Houston, Group child care in Houston, Family day care in Houston, Early education in HoustonDay care in Houston, Infant care in Houston, Preschool academy in Houston, After school care in Houston, After school in Houston, Early childhood in Houston, Early preschool in Houston, Preschool in Houston, Child care in Houston, Private school in Houston, Preschool programs in Houston, Local daycare in Houston, Daycare center in Houston, Group child care in Houston, Family day care in Houston, Early education in Houston, Infant daycare in Houston, Toddler daycare in Houston, Toddler care in Houston, Preschool education in Houston, Cool kindergarten in Houston, Summer camp in Houston Infant daycare in Houston, Toddler daycare in Houston, Toddler care in Houston, Preschool education in Houston, Cool kindergarten in Houston, Summer camp in Houston, Daycare and Child care Academy, Preschool and Daycare Center