Why Teaching Children Empathy Is More Important Than Ever
Best Daycare Near You
Empathy is a vital human trait that allows us to connect with others, understand their feelings and perspectives, and respond to their needs in a meaningful way. In today's world, where social issues and conflicts abound, teaching empathy to children has become more critical than ever.
First and foremost, empathy promotes positive relationships. Children who learn to empathize with others are more likely to form strong, lasting bonds with their peers, teachers, and caregivers. They are also more likely to be kind, compassionate, and helpful, which creates a positive and welcoming environment for everyone.
Moreover, empathy is essential for emotional intelligence. Children who learn to recognize and respond to emotions in themselves and others are better equipped to manage their own emotions, communicate effectively, and resolve conflicts peacefully. This, in turn, leads to better mental health outcomes and improved academic performance.
At Nutcrackers Daycare Academy, we believe that empathy is a critical life skill that all children should learn. We are committed to helping our students develop this trait through our comprehensive curriculum and nurturing environment. If you're looking for a daycare or childcare provider that prioritizes empathy, look no further than Nutcrackers Daycare Academy.
Nutcrackers Daycare Academy We are a family owned and operated academy that provides children with a strong foundation to begin their lives. Our teachers are highly trained and extremely attentive to support your child's desire to explore and discover. Our passionate staff values the relationships we have with our families and work hard to involve them in all our activities and decisions. Our facility provides an openness inside and out for a child to feel free to explore, create, and learn in a safe, loving and developmentally appropriate environment. Contact at 713-842-7796.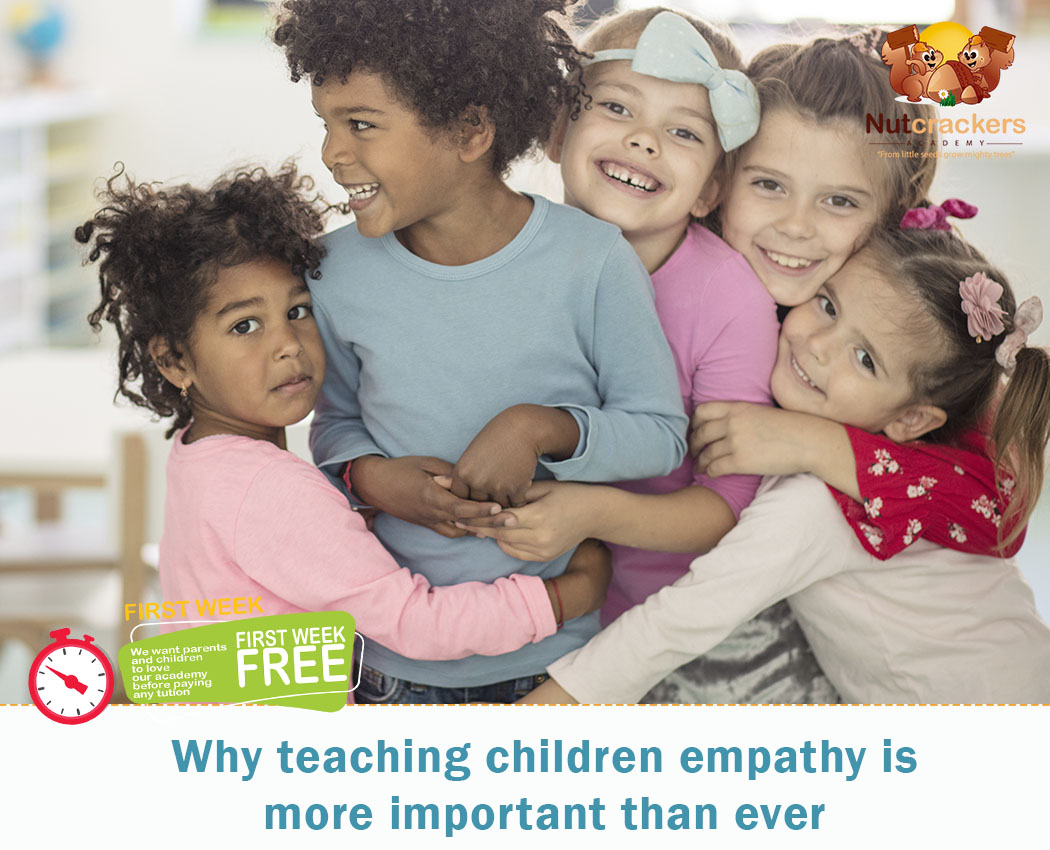 CALL US AT (713) 842-7796 | 📍 8128 Braewick DR. Houston, TX 77074 | or mail us This email address is being protected from spambots. You need JavaScript enabled to view it. Schedule a tour here:
Best Daycare Near You
Day care in Houston, Infant care in Houston, Preschool academy in Houston, After school care in Houston, After school in Houston, Early childhood in Houston, Early preschool in Houston, Preschool in Houston, Child care in Houston, Private school in Houston, Preschool programs in Houston, Local daycare in Houston, Daycare center in Houston, Group child care in Houston, Family day care in Houston, Early education in HoustonDay care in Houston, Infant care in Houston, Preschool academy in Houston, After school care in Houston, After school in Houston, Early childhood in Houston, Early preschool in Houston, Preschool in Houston, Child care in Houston, Private school in Houston, Preschool programs in Houston, Local daycare in Houston, Daycare center in Houston, Group child care in Houston, Family day care in Houston, Early education in Houston, Infant daycare in Houston, Toddler daycare in Houston, Toddler care in Houston, Preschool education in Houston, Cool kindergarten in Houston, Summer camp in Houston Infant daycare in Houston, Toddler daycare in Houston, Toddler care in Houston, Preschool education in Houston, Cool kindergarten in Houston, Summer camp in Houston, Daycare and Child care Academy, Preschool and Daycare Center