Houston Daycare Near Me
Importance of Choosing the Best Daycare
Choosing the best daycare for your child is one of the most important decisions you will make as a parent. Not only will it provide your child with a safe environment to learn and grow, but it will also help prepare them for future success. It is essential to ensure that the daycare you choose is one that meets your family's needs and provides a positive learning experience for your child.
When selecting a daycare, you will want to make sure that it is a safe and secure environment. Ensure that the facility is clean, well-maintained, and has trained staff. It's also important to look into its policies and procedures, including those related to health and safety. Ask questions about the staff, such as their qualifications, training, and experience. Check to make sure the daycare is licensed and inspected.
Another important factor to consider is the curriculum and activities offered. Does the daycare provide activities that are age-appropriate and designed to support your child's developmental needs? Is there an emphasis on creative play and social interaction? Is there a variety of activities that will help your child learn and grow?
One of the most important aspects of choosing the best daycare is the quality of the staff. Look for a daycare with experienced, friendly, and knowledgeable staff. They should be able to provide your child with the necessary support, guidance, and encouragement to grow and learn.
Finally, it is important to consider the cost of the daycare. Prices can vary greatly, so it is important to shop around to ensure you are getting the best value for your money. Don't forget to factor in the convenience of the location, as well as any additional services or amenities that may be offered.
Choosing the best daycare for your child is an important decision that requires careful consideration. Take the time to research and compare different daycare options, and select one that meets your needs and provides a positive learning experience for your child.
Nutcrackers Daycare Academy We are a family owned and operated academy that provides children with a strong foundation to begin their lives. Our teachers are highly trained and extremely attentive to support your child's desire to explore and discover. Our passionate staff values the relationships we have with our families and work hard to involve them in all our activities and decisions. Our facility provides an openness inside and out for a child to feel free to explore, create, and learn in a safe, loving and developmentally appropriate environment. Contact at 713-842-7796.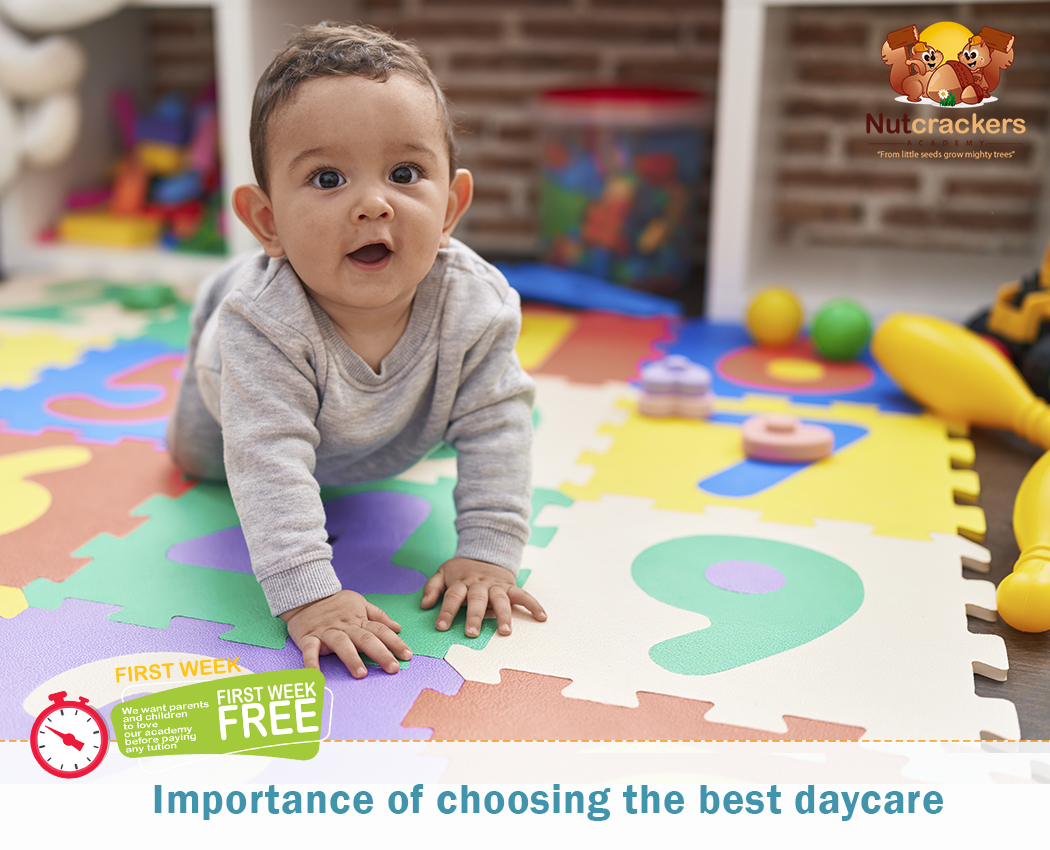 CALL US AT (713) 842-7796 | 📍 8128 Braewick DR. Houston, TX 77074 | or mail us This email address is being protected from spambots. You need JavaScript enabled to view it. Schedule a tour here:
Houston Daycare Near Me
Day care in Houston, Infant care in Houston, Preschool academy in Houston, After school care in Houston, After school in Houston, Early childhood in Houston, Early preschool in Houston, Preschool in Houston, Child care in Houston, Private school in Houston, Preschool programs in Houston, Local daycare in Houston, Daycare center in Houston, Group child care in Houston, Family day care in Houston, Early education in HoustonDay care in Houston, Infant care in Houston, Preschool academy in Houston, After school care in Houston, After school in Houston, Early childhood in Houston, Early preschool in Houston, Preschool in Houston, Child care in Houston, Private school in Houston, Preschool programs in Houston, Local daycare in Houston, Daycare center in Houston, Group child care in Houston, Family day care in Houston, Early education in Houston, Infant daycare in Houston, Toddler daycare in Houston, Toddler care in Houston, Preschool education in Houston, Cool kindergarten in Houston, Summer camp in Houston Infant daycare in Houston, Toddler daycare in Houston, Toddler care in Houston, Preschool education in Houston, Cool kindergarten in Houston, Summer camp in Houston, Daycare and Child care Academy, Preschool and Daycare Center