Family Day Care: Is It the Right Choice for Your Child?
Family Day Care promises a clean, homely atmosphere for your child. It is usually offered by stay-at-home moms who have toddlers of their own. This gives you a certain degree of comfort as you know that your child will be taken care of by another mother.

Child Care affects both parents and children in a very profound manner. It can bring about changes in a child's behavior both positively and negatively. It affects kids physically and mentally. It also plays a role in developing emotional and social ties. So it is very important that you ensure that the child care provider is well-qualified and experienced. The child care professional should also be in touch with the latest trends in early childhood education, activities, and child health care.

Before selecting a good Family Day Care Centre, you should visit the place and spend some time watching how the caregiver is taking care of the children. Are the children being given individualized attention? Are their needs being met with minimum fuss? Do the children feel comfortable to ask the caregiver for food or assistance? Is the toilet clean? Are the nappy changing areas disinfected before and after every nappy change? Are the children playful and cheerful? Is the Child Care Provider gentle and yet firm while disciplining the children? Do the children respond well while spoken to?
source: Ezine Articles
Nutcrackers Daycare Academy We are a family owned and operated academy that provides children with a strong foundation to begin their lives. Our teachers are highly trained and extremely attentive to support your child's desire to explore and discover. Our passionate staff values the relationships we have with our families and work hard to involve them in all our activities and decisions. Our facility provides an openness inside and out for a child to feel free to explore, create, and learn in a safe, loving and developmentally appropriate environment. Contact at 713-842-7796.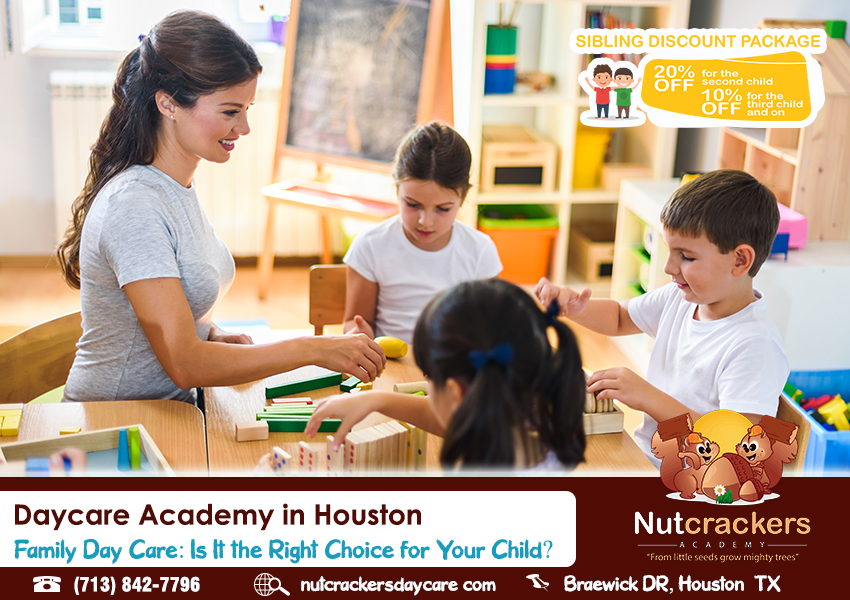 Daycare in Houston TX
Academy, Children, Infants 1, Infants 2, Toddlers, Preschool, After School, Child Care & Day Care, Best Infant Day Care in Houston, Best Child Care in Houston, Childcare in Houston, Daycare & Preschool, Child Care Service Houston, Preschool Houston, Best houston preschool, educational preschool, preschool education, preschool in houston, preschool programs in houston, preschools in houston, Houston preschool, Houston Child care, Houston childcare, Houston daycare, Houston Infant Care, Houston after school care, preschool in Houston, Child care in Houston, childcare in Houston, day care in Houston, daycare in Houston