Child Care: Easy Tips for Finding the Best Child Care
This is the first thing you need to check when you visit your local Day Care Centre. Ask for their license and accreditation papers. A licensed and accredited Centre will meet the minimum requirements for health, hygiene, and safety standards. Inquire about the qualifications and experience of the child care providers. Find out if the staff are trained in handling emergencies; are they familiar with rendering First Aid? Do they keep abreast of the latest developments in teaching methods?

A very important aspect of Day Care is the schedule of both indoor and outdoor activities for the children. Children develop emotional bonding and social interaction skills at a very early age and it is imperative that the child care provider is knowledgeable in educating and guiding the child.
source: Ezine Articles
Nutcrackers Daycare Academy We are a family owned and operated academy that provides children with a strong foundation to begin their lives. Our teachers are highly trained and extremely attentive to support your child's desire to explore and discover. Our passionate staff values the relationships we have with our families and work hard to involve them in all our activities and decisions. Our facility provides an openness inside and out for a child to feel free to explore, create, and learn in a safe, loving and developmentally appropriate environment. Contact at 713-842-7796.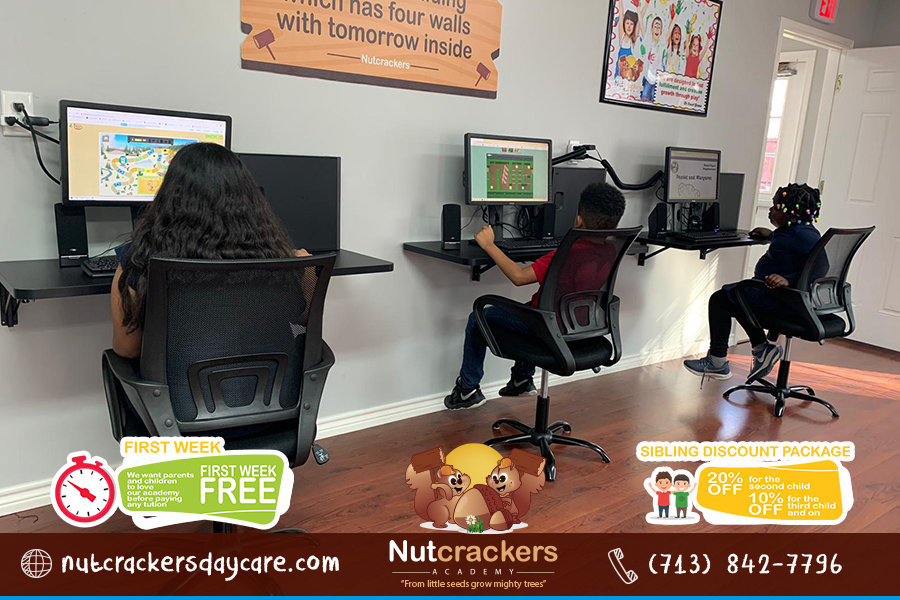 Daycare in Houston TX
Academy, Children, Infants 1, Infants 2, Toddlers, Preschool, After School, Child Care & Day Care, Best Infant Day Care in Houston, Best Child Care in Houston, Childcare in Houston, Daycare & Preschool, Child Care Service Houston, Preschool Houston, Best houston preschool, educational preschool, preschool education, preschool in houston, preschool programs in houston, preschools in houston, Houston preschool, Houston Child care, Houston childcare, Houston daycare, Houston Infant Care, Houston after school care, preschool in Houston, Child care in Houston, childcare in Houston, day care in Houston, daycare in Houston