Techniques On How To Get A Child To Listen
1. No Shouting - If you want to be able to make your child listen to you, then you should not shout at your child. This is a mistake that a lot of us are prone to doing. When we are mad or upset about something that our child has done, then our initial reaction is to shout at them while scolding them. This will only make you more upset in the end. And worse, is that your child will only end up as upset as you are. Shouting at a child will only make him/her cry, this in turn will only make your child think of his/her hurt feelings and not necessarily focus on the bad act that he/she has committed. So, say no to shouting if you want to get your child to listen to you.
2. Use Simple Words - There is no better way to communicate with a child than by using simple words. For example, you simply cannot use your wide vocabulary on someone who has just learned how to speak. There are words that you can use that they can easily understand. Of course you do not have to baby talk them. That won't also help you. Just use simple words, something that they are used to hearing. This way, your child will be able to understand you well, and will hear every word that you say.
source: Ezine Articles
Nutcrackers Daycare Academy We are a family owned and operated academy that provides children with a strong foundation to begin their lives. Our teachers are highly trained and extremely attentive to support your child's desire to explore and discover. Our passionate staff values the relationships we have with our families and work hard to involve them in all our activities and decisions. Our facility provides an openness inside and out for a child to feel free to explore, create, and learn in a safe, loving and developmentally appropriate environment. Contact at 713-842-7796.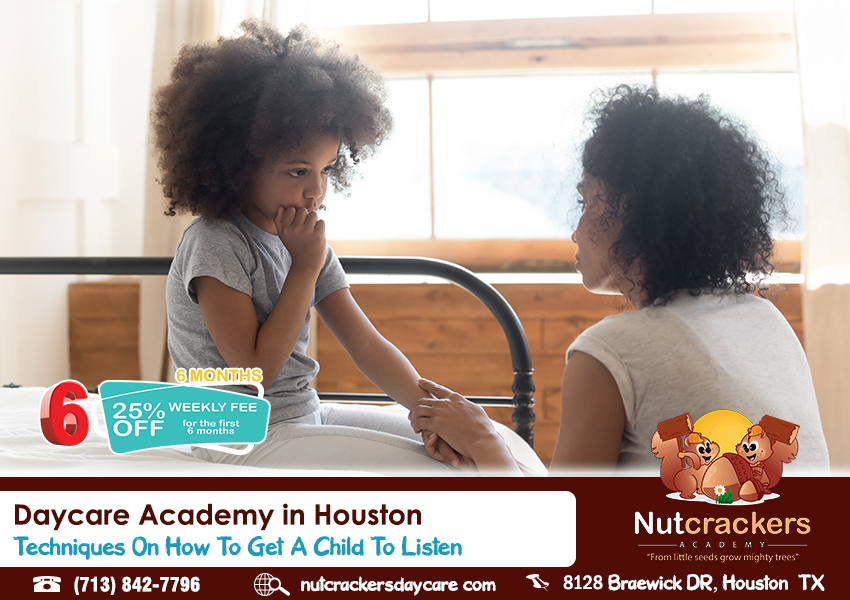 Daycare in Houston TX
Academy, Children, Infants 1, Infants 2, Toddlers, Preschool, After School, Child Care & Day Care, Best Infant Day Care in Houston, Best Child Care in Houston, Childcare in Houston, Daycare & Preschool, Child Care Service Houston, Preschool Houston, Best houston preschool, educational preschool, preschool education, preschool in houston, preschool programs in houston, preschools in houston, Houston preschool, Houston Child care, Houston childcare, Houston daycare, Houston Infant Care, Houston after school care, preschool in Houston, Child care in Houston, childcare in Houston, day care in Houston, daycare in Houston