How Well Do You Listen to Your Child?
As your child is sharing, you need to listen and not react to what they are saying. Don't let your emotions get in the way of listening. You need to be able to really hear your child's perspective. Remember, they don't have the same life experience as you do, so their view may be very different from yours. Try not to judge.

At times it may be difficult to hear what your child has to say. Maybe they need to tell you how they feel about something you do that upsets them. As difficult as it may be, please listen. As parents, we do make mistakes and sometimes our kids will point them out to us. Don't be too quick to defend yourself. Very often, our kids make a good point. Try to listen and understand their point of view.

When your child learns that you will just listen, they will feel a stronger bond with you. They will be more open to sharing their thoughts, their fears, and their ideas with you. They will be more likely to come to you with questions. This is crucial if you want them to be coming to you for help or advice rather than their peers. Their peers may not have the best advice for your child. It is important that they know they can come to you with any concern.

Set aside regular time to listen to your child. Put it in your calendar. Make sure you can give your full attention. Sometimes your child will need you to listen between these regular times. If at all possible, take the time to listen. This may mean that they are late for school or an appointment. If you absolutely can't take the time to listen, set up a time with them in the near future. Don't just brush them off.

It is imperative that we keep the line of communication open with our kids. This can help prevent many problems for our kids, including depression. If your child knows that they can come to you with anything and you will listen to them (not lecture), it will go along way in keeping your kids happy, healthy and confident.
source: Ezine Articles
Nutcrackers Daycare Academy We are a family owned and operated academy that provides children with a strong foundation to begin their lives. Our teachers are highly trained and extremely attentive to support your child's desire to explore and discover. Our passionate staff values the relationships we have with our families and work hard to involve them in all our activities and decisions. Our facility provides an openness inside and out for a child to feel free to explore, create, and learn in a safe, loving and developmentally appropriate environment. Contact at 713-842-7796.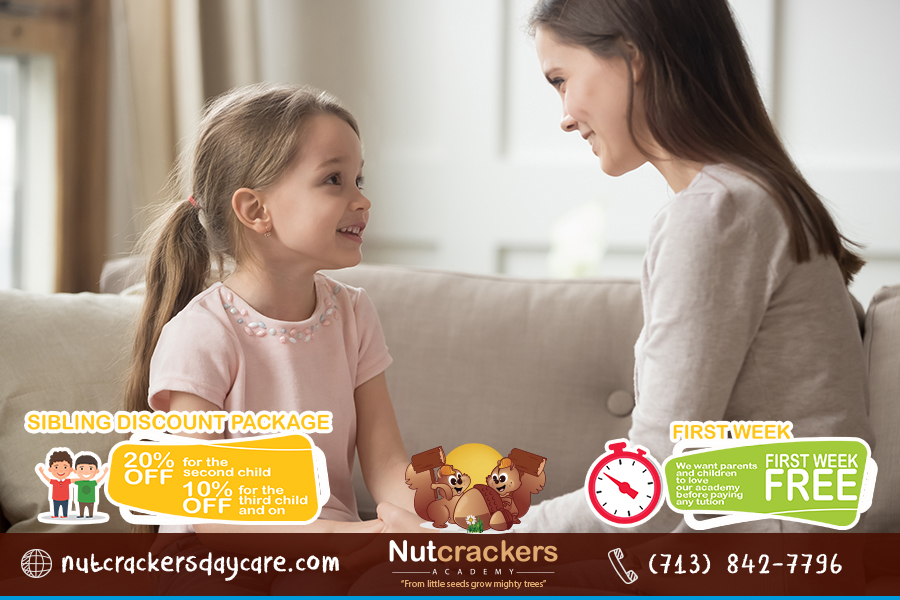 Daycare in Houston TX
Academy, Children, Infants 1, Infants 2, Toddlers, Preschool, After School, Child Care & Day Care, Best Infant Day Care in Houston, Best Child Care in Houston, Childcare in Houston, Daycare & Preschool, Child Care Service Houston, Preschool Houston, Best houston preschool, educational preschool, preschool education, preschool in houston, preschool programs in houston, preschools in houston, Houston preschool, Houston Child care, Houston childcare, Houston daycare, Houston Infant Care, Houston after school care, preschool in Houston, Child care in Houston, childcare in Houston, day care in Houston, daycare in Houston