Making Your Child Happy
What is happiness?

Happiness is an emotion we all hope to feel as much as possible. But we often struggle to define exactly what happiness is, because it's an emotional state associated with many other emotional states, such as contentment, satisfaction, love and fulfilment. In fact, any positive emotional state is associated with happiness.

Are people happy when their positive emotions simply outweigh the negative? The pleasure principle theory states that humans instinctively maximise pleasure and minimise pain. But current thinking is that human emotion is far more complicated than that. After all, people can be unhappy and still laugh at a joke. To clarify the situation, William McDougall, a social psychologist from Harvard, promotes the theory of feel-good happiness and value-based happiness.

Feel-good happiness derives from activities, such as enjoying a good meal, laughing with friends or playing with your children. It is enjoyment in the moment and is short-lived. Value-based happiness represents a more spiritual satisfaction, occurring when you live according to the values you admire. This more enduring type of happiness gives your life meaning and purpose.

Dr Stephen Reiss researched this enduring type of happiness with a study of 6000 people. He developed a psychological test called the Reiss Profile to measure 16 desires that humans have - curiosity, acceptance, order, physical activity, honour, power, independence, social contact, family, status, idealism, vengeance, romance, eating, saving and tranquillity.

In short, it's how you prioritise these values and try to live your life according to them that increases value-based happiness.

Children and Happiness

What's obvious from the research is that you, as a parent, cannot gift wrap happiness and present it to your child. Material gifts will only lead to temporary feel-good happiness - not the longer lasting kind that means so much. As psychiatrist Edward Hallowell explains in The childhood roots of adult happiness, spoilt kids don't acquire the valuable psychological tools they need to develop into happy adults. As children develop from babies their needs change, so as they age our responsibility as parents shifts to ways in which we can give them a deeper level of happiness that simple physical comfort and love.

How do we know that our children are happy?

Every parent should know their child well enough to be able to keep track of their positive versus negative emotions Signs of positive emotions include laughter, smiles, affection, curiosity and interest in things your child enjoys, Negative emotions include signs of distress, fear and anger. Irritation is often missed as a symptom of unhappiness. Children can display outward signs of sadness such as crying, tantrums and anger, or be more inward by withdrawing from their environments and relationships.

Obviously if your child is naturally introverted and shy, don't panic. The key is to monitor changes in his behaviour and mood. If you're concerned, discuss your fears with other involved adults, such as teachers, grandparents and friends' parents. If you still feel worried, seek help, because it must be remembered that children do get depressed.
source: Ezine Articles
Nutcrackers Daycare Academy We are a family owned and operated academy that provides children with a strong foundation to begin their lives. Our teachers are highly trained and extremely attentive to support your child's desire to explore and discover. Our passionate staff values the relationships we have with our families and work hard to involve them in all our activities and decisions. Our facility provides an openness inside and out for a child to feel free to explore, create, and learn in a safe, loving and developmentally appropriate environment. Contact at 713-842-7796.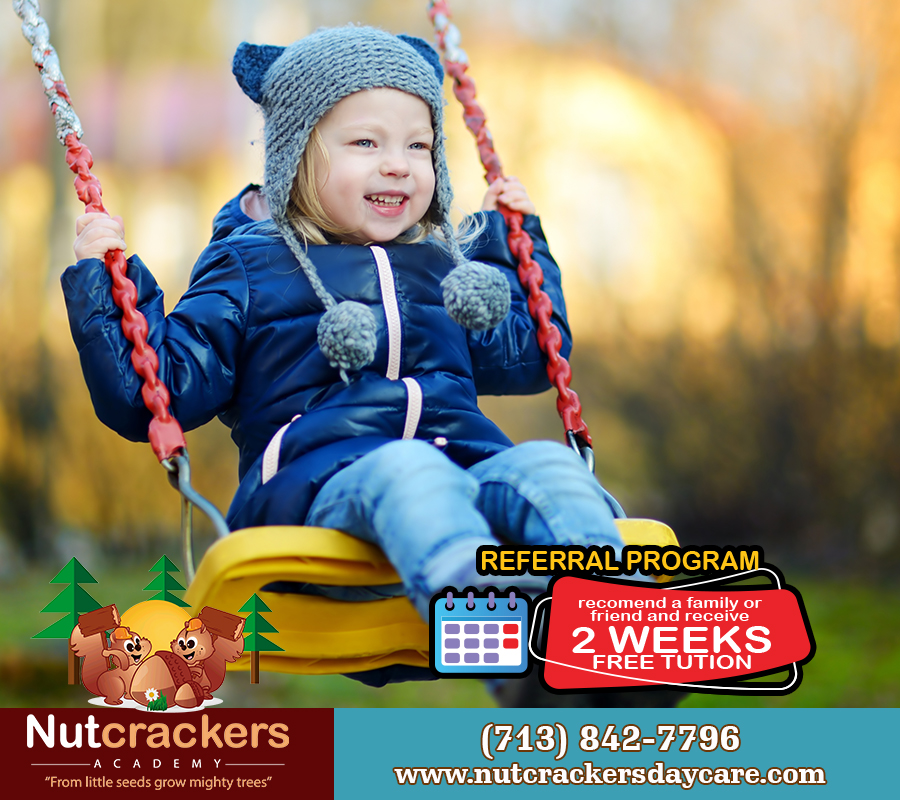 Daycare in Houston TX
Academy, Children, Infants 1, Infants 2, Toddlers, Preschool, After School, Child Care & Day Care, Best Infant Day Care in Houston, Best Child Care in Houston, Childcare in Houston, Daycare & Preschool, Child Care Service Houston, Preschool Houston, Best houston preschool, educational preschool, preschool education, preschool in houston, preschool programs in houston, preschools in houston, Houston preschool, Houston Child care, Houston childcare, Houston daycare, Houston Infant Care, Houston after school care, preschool in Houston, Child care in Houston, childcare in Houston, day care in Houston, daycare in Houston