Preparing Your Child For Daycare
One of the hardest things I've ever had to do was to leave my child at daycare for the first time ever and head off to work. Even though I mentally prepared myself for months, tears streamed down my face as I drove off from my son's daycare. The funny thing was my son was just fine.

When you are considering daycare for your child be sure to involve your child in the process as much as possible. Bring your child to the daycare that you are considering attending. If you've set up an interview with a daycare provider, bring your child along. This will enable your child the opportunity to get familiar with the provider right from the get-go. Children pick up things really quickly and the sooner the exposure to the daycare provider the better.

Once you've made a decision regarding daycare, ask the provider if it's possible for you to attend the daycare with your child before you actually leave him alone for good.

Most providers will not have an issue with this. If you stay with your child it will give your child the chance to explore the wonderful things that the daycare has to offer while having the security of mom or dad by his side. This can be done for about one or two days for as long as you wish to stay with your child. For example, you can come to the daycare at about 8:00am, sit and play with your child for about half an hour and then let your child know that you have to go but you'll be back later to pick him up. This can then be repeated the next day. Children are very big on routines and this is just another routine for him to follow. Mom is going to drop me off, I'll play and have a great day and then she'll be back to pick me up.
source: Ezine Articles
Nutcrackers Daycare Academy We are a family owned and operated academy that provides children with a strong foundation to begin their lives. Our teachers are highly trained and extremely attentive to support your child's desire to explore and discover. Our passionate staff values the relationships we have with our families and work hard to involve them in all our activities and decisions. Our facility provides an openness inside and out for a child to feel free to explore, create, and learn in a safe, loving and developmentally appropriate environment. Contact at 713-842-7796.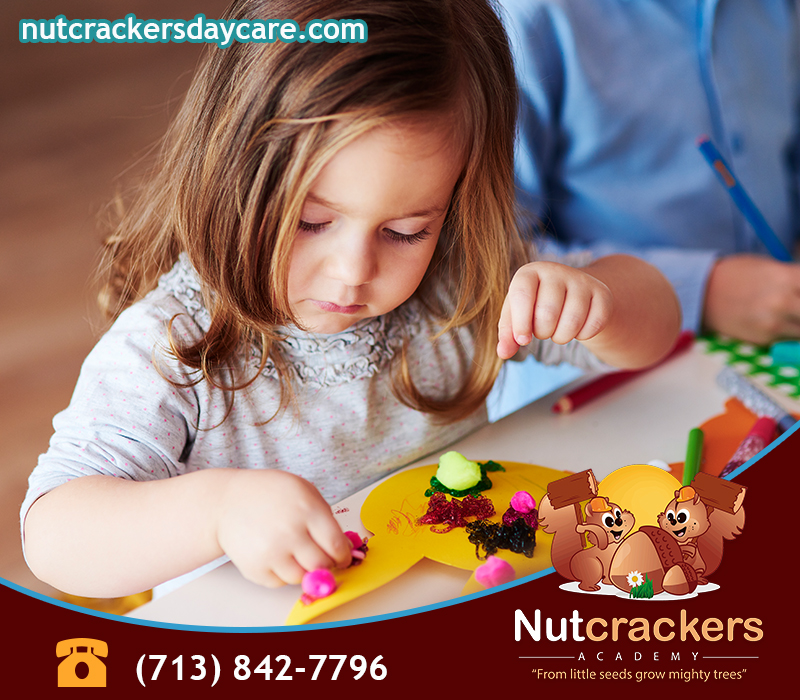 Daycare in Houston TX
Academy, Children, Infants 1, Infants 2, Toddlers, Preschool, After School, Child Care & Day Care, Best Infant Day Care in Houston, Best Child Care in Houston, Childcare in Houston, Daycare & Preschool, Child Care Service Houston, Preschool Houston, Best houston preschool, educational preschool, preschool education, preschool in houston, preschool programs in houston, preschools in houston, Houston preschool, Houston Child care, Houston childcare, Houston daycare, Houston Infant Care, Houston after school care, preschool in Houston, Child care in Houston, childcare in Houston, day care in Houston, daycare in Houston