Top 10 Benefits of Child Care for Infants and Toddlers
Nutrition and Care—It's especially important for infants to maintain their own unique habits and schedules.
Social Interaction—Since a young child's self-confidence and socialization skills are developed at a very early age.
Schedule and Routine— Following a daily schedule can even help children sleep better, follow healthy nutritional patterns, and learn how to listen and follow instructions.
Communication and Language Development—As both infants and toddlers learn to communicate, a quality child care program can be the perfect environment for them to learn how to express emotions and learn how to speak.

Sensory Stimulation—Through art, music, and physical movement.
Stronger Immune System—Several pediatric studies have shown that children who were a part of child care programs before age two were commonly less sick during elementary school than children who were cared for at home.
Cooperative Play—Through structured and unstructured play activities during the day, infants and toddlers learn how to share and cooperate with each other in soothing classroom learning centers and safe outdoor play environments.
Stability—Child care centers maintain regular hours and reliable environments, which can offer stability for busy parents and gives an added peace of mind.
Parental Interaction and Support—Parents of infants and toddlers can greatly benefit from the interaction and support of other parents who are in the same season of life.
source: The Gardner School
Nutcrackers Daycare Academy We are a family owned and operated academy that provides children with a strong foundation to begin their lives. Our teachers are highly trained and extremely attentive to support your child's desire to explore and discover. Our passionate staff values the relationships we have with our families and work hard to involve them in all our activities and decisions. Our facility provides an openness inside and out for a child to feel free to explore, create, and learn in a safe, loving and developmentally appropriate environment. Contact at 713-842-7796.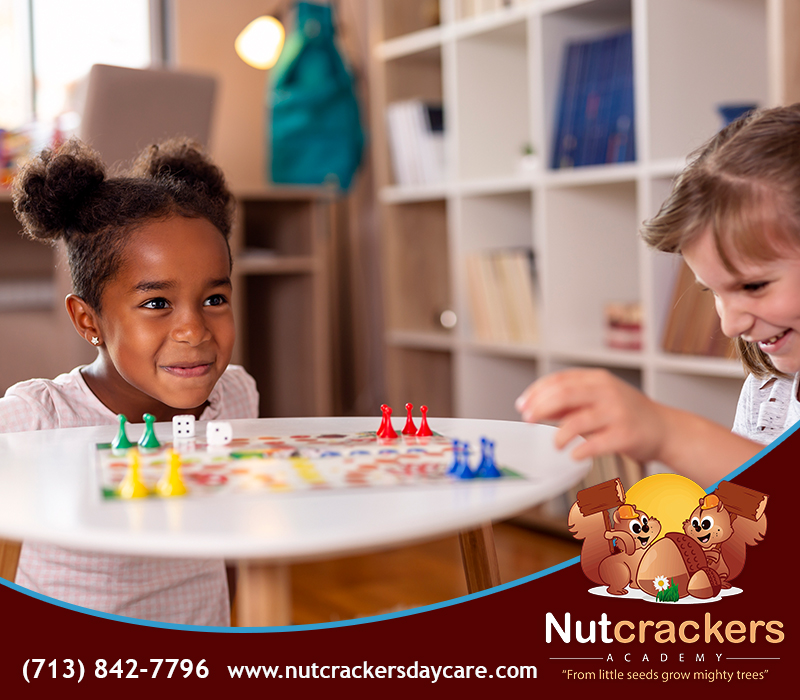 Daycare in Houston TX
Academy, Children, Infants 1, Infants 2, Toddlers, Preschool, After School, Child Care & Day Care, Best Infant Day Care in Houston, Best Child Care in Houston, Childcare in Houston, Daycare & Preschool, Child Care Service Houston, Preschool Houston, Best houston preschool, educational preschool, preschool education, preschool in houston, preschool programs in houston, preschools in houston, Houston preschool, Houston Child care, Houston childcare, Houston daycare, Houston Infant Care, Houston after school care, preschool in Houston, Child care in Houston, childcare in Houston, day care in Houston, daycare in Houston