When Should I Start Reading to My Baby?
You don't have to wait until your child is talking; even from early infancy, reading to your baby begins to teach her to recognize the sounds and rhythm of language and to feel that cuddling with you and reading books is comforting and fun. Reading is also a great way for fathers, grandparents, and older siblings to bond with the baby.
Studies show that children who are routinely read to from a young age develop improved language skills and increased interest in reading, which helps improve their readiness for preschool and kindergarten. Try to make reading part of your daily routine with your baby—for example, at bedtime. You can start out reading for a few minutes at a time, and extend to longer reading sessions as your child grows older and develops a longer attention span. Find a comfortable place to read and turn off other distractions such as the television or radio. Make the story come alive by using different voices for different characters, and even acting out parts of the story.
Children can be interested in different types of books depending on their age, development, temperament, and life experiences. Babies like books with interesting things to look at and touch; toddlers also like books that make noises and have fold-out sections they can lift to reveal hidden surprises; and preschoolers appreciate books with more elaborate pictures, rhymes, funny words, and interesting stories. Children may be enthralled with books about animals, trucks, princesses, baseball players, or children like themselves. Try out different books with your child to see what he enjoys.
Original Source: fisher-price
Nutcrackers Daycare Academy We are a family owned and operated academy that provides children with a strong foundation to begin their lives. Our teachers are highly trained and extremely attentive to support your child's desire to explore and discover. Our passionate staff values the relationships we have with our families and work hard to involve them in all our activities and decisions. Our facility provides an openness inside and out for a child to feel free to explore, create, and learn in a safe, loving and developmentally appropriate environment. Contact at 713-842-7796.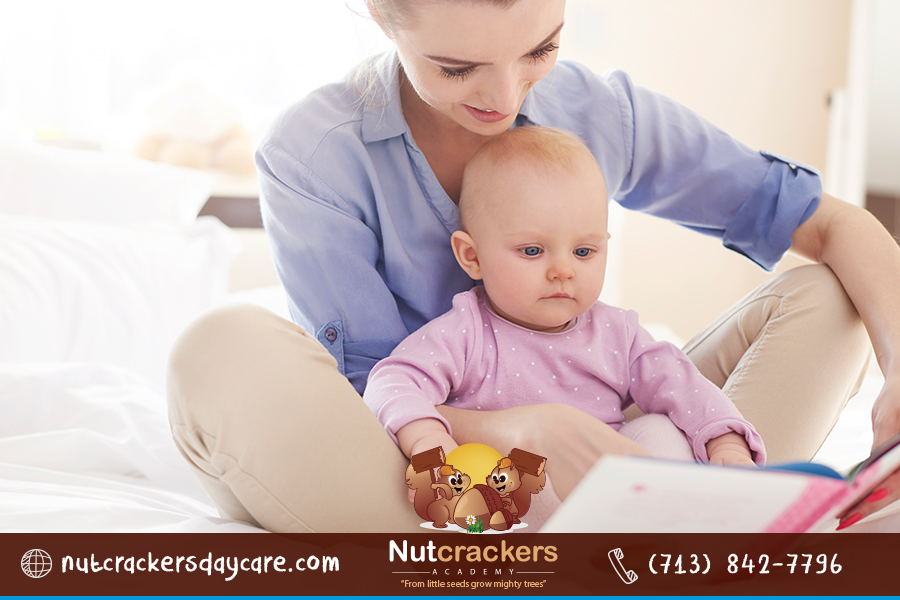 Daycare in Houston TX
Academy, Children, Infants 1, Infants 2, Toddlers, Preschool, After School, Child Care & Day Care, Best Infant Day Care in Houston, Best Child Care in Houston, Childcare in Houston, Daycare & Preschool, Child Care Service Houston, Preschool Houston, Best houston preschool, educational preschool, preschool education, preschool in houston, preschool programs in houston, preschools in houston, Houston preschool, Houston Child care, Houston childcare, Houston daycare, Houston Infant Care, Houston after school care, preschool in Houston, Child care in Houston, childcare in Houston, day care in Houston, daycare in Houston