Preschool and Daycare Center in Houston
Healing Yourself So You Can Be a More Peaceful Parent
The famous psychologist D.W. Winnicott said that children don't need perfection from their parents; all we need to do is avoid harming them, and to offer them the "ordinary devotion" which has always been required of parents.
The good news is that being parents gives us an opportunity to heal ourselves. Most parents say that loving their children has transformed them: made them more patient, more compassionate, more selfless. Loving our children helps us to heal those unloved places inside.

So how can we heal our own scars, to become the parents our children deserve?

1. Get Curious.

If we pay attention, we notice where we're over-reacting, where we need to examine our own "stuff". And truthfully, most of it is our own stuff. Not that kids don't act like kids -- they always do, and that's age appropriate. But we know that what triggers some parents would be greeted by others with a calm, warm attitude that helps kids WANT to behave -- which tells us that those are our individual issues.

2. Break the cycle by using your inner Pause button.

You don't have to repeat history with your kids. Even if you're already well down the wrong path, STOP. Take a deep breath, and hit the pause button. Remind yourself of what is about to happen unless you choose another course. Walk out of the room. Don't be embarrassed; you're modeling good anger management. It's when you have a tantrum that you should be embarrassed. (See Handling Your Own Anger.)

3. Understand how emotions work.

Anger is a biological state. When we are in the grip of the chemical reactions that make us "angry," we do and say things we would never choose to do otherwise. When your body and emotions are in "fight or flight" mode, your child always looks like the enemy. Take a breath and wait till you calm down.

4. Reflect on your own "story."

If you had a painful childhood, you can't change that. But what you can change is what you're taking with you from that childhood. Your "story." You do that by reflecting on it, feeling the painful feelings, but also considering new angles. If your father abandoned the family and you concluded that you weren't good enough, it's time to set the record straight and understand, from your adult vantage point, that you were more than enough and his leaving had nothing to do with you. If your mother hit you and you concluded that you were somehow bad inside, a more accurate understanding would be that your mother was frightened and would have hit even the most angelic child in the world. You were just like any child: reaching out for love and attention in the only ways you knew. Coming to terms with your story and rewriting it can be a painful process, but it's liberating. It's also the only path to being the parent you want to be to your child.

5. De-Stress.

We all have a harder time being the best parents we can be when we're stressed out. Develop a repertoire of habits that help you de-stress: regular exercise, yoga, hot baths, meditation. Can't find the time? Involve the whole family.

6. Get support in working through old issues.

Parenting support groups can be invaluable in supporting you to re-frame your parenting positively. Therapy and coaching are designed to help you heal old issues and move forward more happily in your life. There is no shame in asking for help.
source: Aha! Parenting
Nutcrackers Daycare Academy We are a family owned and operated academy that provides children with a strong foundation to begin their lives. Our teachers are highly trained and extremely attentive to support your child's desire to explore and discover. Our passionate staff values the relationships we have with our families and work hard to involve them in all our activities and decisions. Our facility provides an openness inside and out for a child to feel free to explore, create, and learn in a safe, loving and developmentally appropriate environment. Contact at 713-842-7796.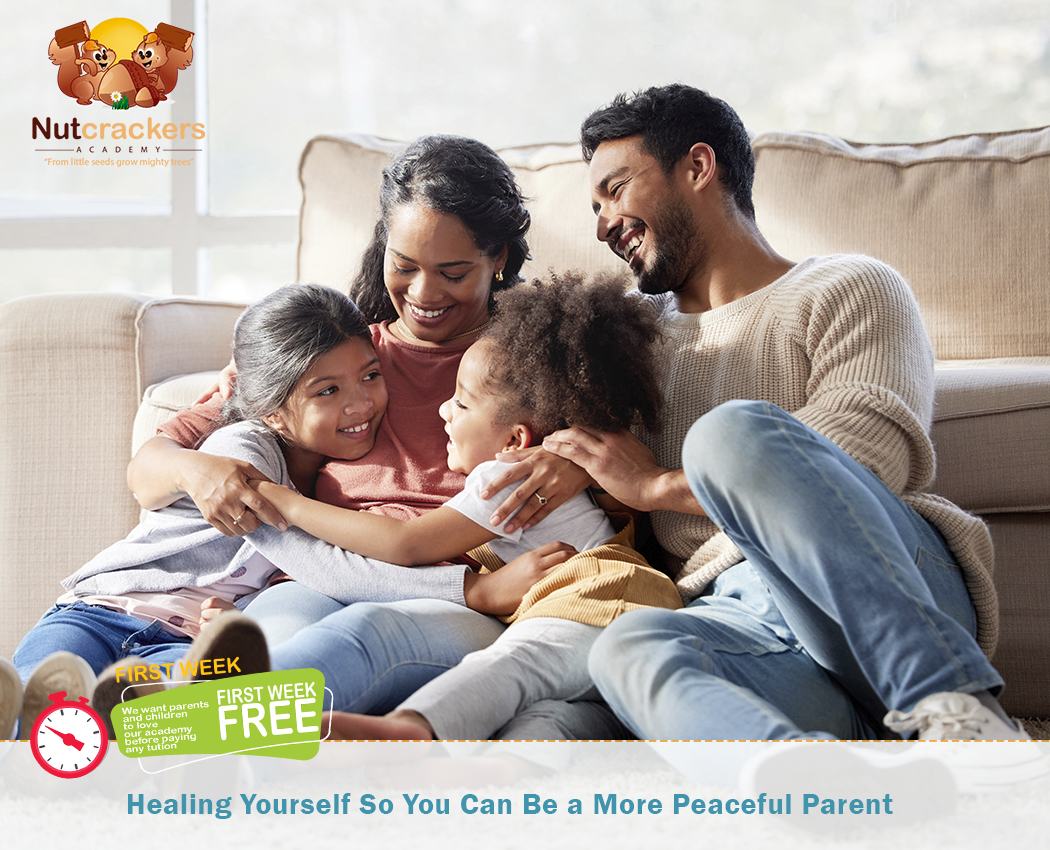 CALL US AT (713) 842-7796 | 📍 8128 Braewick DR. Houston, TX 77074 | or mail us This email address is being protected from spambots. You need JavaScript enabled to view it. Schedule a tour here:
Preschool and Daycare Center
Day care in Houston, Infant care in Houston, Preschool academy in Houston, After school care in Houston, After school in Houston, Early childhood in Houston, Early preschool in Houston, Preschool in Houston, Child care in Houston, Private school in Houston, Preschool programs in Houston, Local daycare in Houston, Daycare center in Houston, Group child care in Houston, Family day care in Houston, Early education in HoustonDay care in Houston, Infant care in Houston, Preschool academy in Houston, After school care in Houston, After school in Houston, Early childhood in Houston, Early preschool in Houston, Preschool in Houston, Child care in Houston, Private school in Houston, Preschool programs in Houston, Local daycare in Houston, Daycare center in Houston, Group child care in Houston, Family day care in Houston, Early education in Houston, Infant daycare in Houston, Toddler daycare in Houston, Toddler care in Houston, Preschool education in Houston, Cool kindergarten in Houston, Summer camp in Houston Infant daycare in Houston, Toddler daycare in Houston, Toddler care in Houston, Preschool education in Houston, Cool kindergarten in Houston, Summer camp in Houston, Daycare and Child care Academy, Preschool and Daycare Center