Preschool and Daycare Center in Houston
Unconditional Love In Action: Cherishing Your Child
Humans are born ready to love, and to be loved. All parents recognize the adoration reserved especially for parents, the small arms reaching up, the joy of infant and parent in their cocoon of mutual delight. Babies expect to be cherished.
Being cherished as a baby is the foundation for the development of empathy, compassion, and emotional generosity.

This cherishing, this affirmation of the infant from head to toe, teaches the baby who he is. In interaction with the parents, the baby learns "Yes, these are my toes, how good they feel when Dad kisses them!" and "Mom makes that happy noise when I smile at her!" The baby also learns "Mom and Dad love to bathe me, to feed me, to care for me: I am worth taking care of. I am lovable."

Cherishing our babies is natural, if we listen to our instincts. It is our secret weapon, the nourishment that helps them grow inside, the source of their self esteem, the predictor of their ability to love and be loved.
source: Aha! Parenting
Nutcrackers Daycare Academy We are a family owned and operated academy that provides children with a strong foundation to begin their lives. Our teachers are highly trained and extremely attentive to support your child's desire to explore and discover. Our passionate staff values the relationships we have with our families and work hard to involve them in all our activities and decisions. Our facility provides an openness inside and out for a child to feel free to explore, create, and learn in a safe, loving and developmentally appropriate environment. Contact at 713-842-7796.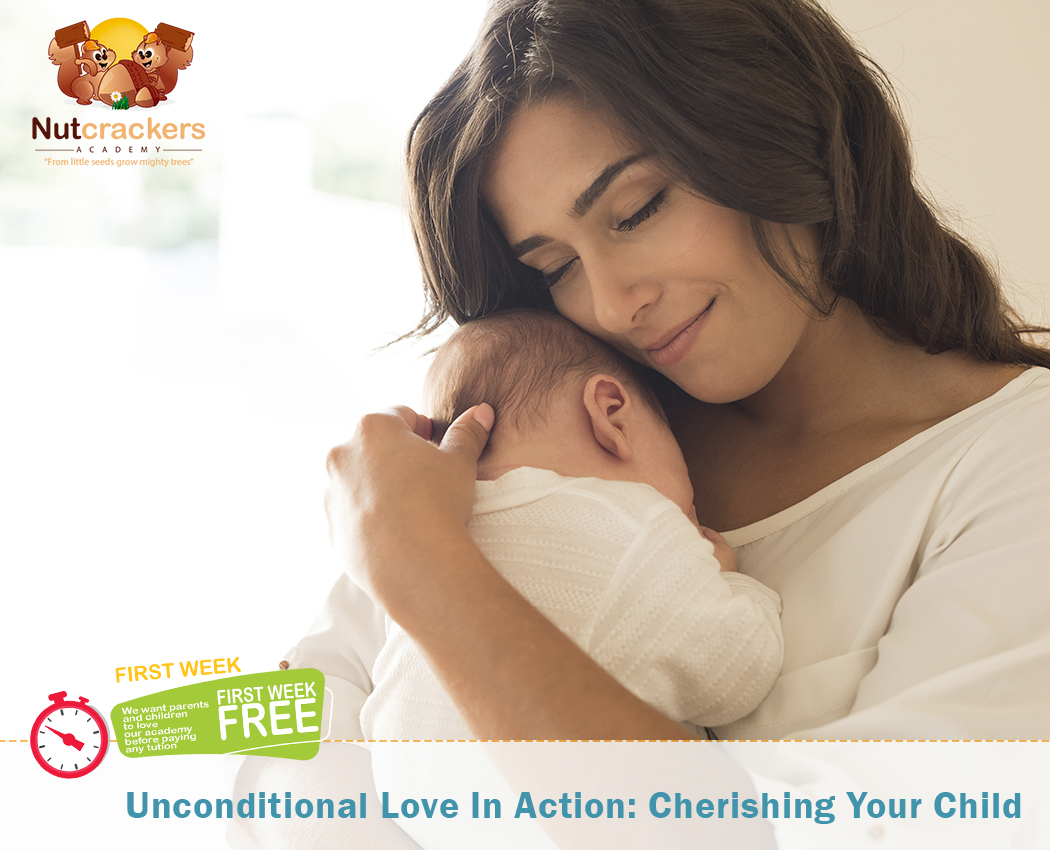 CALL US AT (713) 842-7796 | 📍 8128 Braewick DR. Houston, TX 77074 | or mail us This email address is being protected from spambots. You need JavaScript enabled to view it. Schedule a tour here:
Daycare in Houston
Day care in Houston, Infant care in Houston, Preschool academy in Houston, After school care in Houston, After school in Houston, Early childhood in Houston, Early preschool in Houston, Preschool in Houston, Child care in Houston, Private school in Houston, Preschool programs in Houston, Local daycare in Houston, Daycare center in Houston, Group child care in Houston, Family day care in Houston, Early education in HoustonDay care in Houston, Infant care in Houston, Preschool academy in Houston, After school care in Houston, After school in Houston, Early childhood in Houston, Early preschool in Houston, Preschool in Houston, Child care in Houston, Private school in Houston, Preschool programs in Houston, Local daycare in Houston, Daycare center in Houston, Group child care in Houston, Family day care in Houston, Early education in Houston, Infant daycare in Houston, Toddler daycare in Houston, Toddler care in Houston, Preschool education in Houston, Cool kindergarten in Houston, Summer camp in Houston Infant daycare in Houston, Toddler daycare in Houston, Toddler care in Houston, Preschool education in Houston, Cool kindergarten in Houston, Summer camp in Houston, Daycare and Child care Academy, Preschool and Daycare Center