Houston Day care
Play Time Supports Cognitive and Social Development That Lasts Into Adulthood
Often dismissed as childish, play may actually be the most important way for young children to grow, learn about their surroundings, and build stronger brains. Play allows young children to hone their attention spans and to learn to focus on specific tasks. When they are at play, children are strengthening their motors skills, visual tracking, and hand-eye coordination. Cooperative play with other children helps to develop creative thinking, problem solving, decision making, and communication skills like listening, cooperating, and negotiating.
Play Doesn't Require Expensive Toys
Despite the growing popularity of expensive playthings, children need very little to maximize their play experiences. Uninterrupted and unstructured play time is important. Children need safe play spaces where they can explore and interact with materials freely. Boxes, spoons, blankets, and bowls can unleash creativity just as effectively as pricey educational toys.
source: The Urban Child Institute
Nutcrackers Daycare Academy We are a family owned and operated academy that provides children with a strong foundation to begin their lives. Our teachers are highly trained and extremely attentive to support your child's desire to explore and discover. Our passionate staff values the relationships we have with our families and work hard to involve them in all our activities and decisions. Our facility provides an openness inside and out for a child to feel free to explore, create, and learn in a safe, loving and developmentally appropriate environment. Contact at 713-842-7796.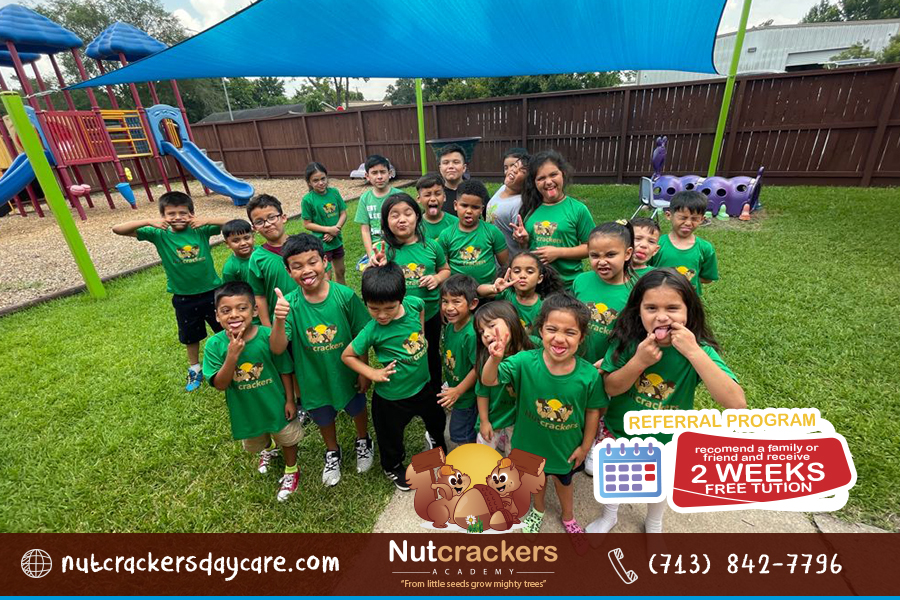 CALL US AT (713) 842-7796 | 📍 8128 Braewick DR. Houston, TX 77074 | or mail us This email address is being protected from spambots. You need JavaScript enabled to view it. Schedule a tour here:
Houston Day care
Academy, Children, Infants 1, Infants 2, Toddlers, Preschool, After School, Child Care & Day Care, Best Infant Day Care in Houston, Best Child Care in Houston, Childcare in Houston, Daycare & Preschool, Child Care Service Houston, Preschool Houston, Best houston preschool, educational preschool, preschool education, preschool in houston, preschool programs in houston, preschools in houston, Houston preschool, Houston Child care, Houston childcare, Houston daycare, Houston Infant Care, Houston after school care, preschool in Houston, Child care in Houston, childcare in Houston, day care in Houston, daycare in Houston