Brain Development
The brain is the command center of the human body. A newborn baby has all of the brain cells (neurons) they'll have for the rest of their life, but it's the connections between these cells that really make the brain work. Brain connections enable us to move, think, communicate and do just about everything. The early childhood years are crucial for making these connections. At least one million new neural connections (synapses) are made every second, more than at any other time in life.
How Brain Connections Are Built
Starting from birth, children develop brain connections through their everyday experiences. They're built through positive interactions with their parents and caregivers and by using their senses to interact with the world. A young child's daily experiences determine which brain connections develop and which will last for a lifetime. The amount and quality of care, stimulation and interaction they receive in their early years makes all the difference.
Caring, Responsive Relationships
A child's relationships with the adults in their life are the most important influences on their brain development. Loving relationships with responsive, dependable adults are essential to a child's healthy development. These relationships begin at home, with parents and family, but also include child care providers, teachers and other members of the community.
From birth, young children serve up invitations to engage with their parents and other adult caregivers. Babies do it by cooing and smiling and crying. Toddlers communicate their needs and interests more directly. Each of these little invitations is an opportunity for the caregiver to be responsive to the child's needs. This "serve and return" process is fundamental to the wiring of the brain. Parents and caregivers who give attention, respond and interact with their child are literally building the child's brain. That's why it's so important to talk, sing, read and play with young children from the day they're born, to give them opportunities to explore their physical world, and to provide safe, stable and nurturing environments.
Original Source: First Tings First
We are a family owned and operated academy that provides children with a strong foundation to begin their lives. Our teachers are highly trained and extremely attentive to support your child's desire to explore and discover. Our passionate staff values the relationships we have with our families and work hard to involve them in all our activities and decisions. Our facility provides an openness inside and out for a child to feel free to explore, create, and learn in a safe, loving and developmentally appropriate environment. Contact at 713-842-7796.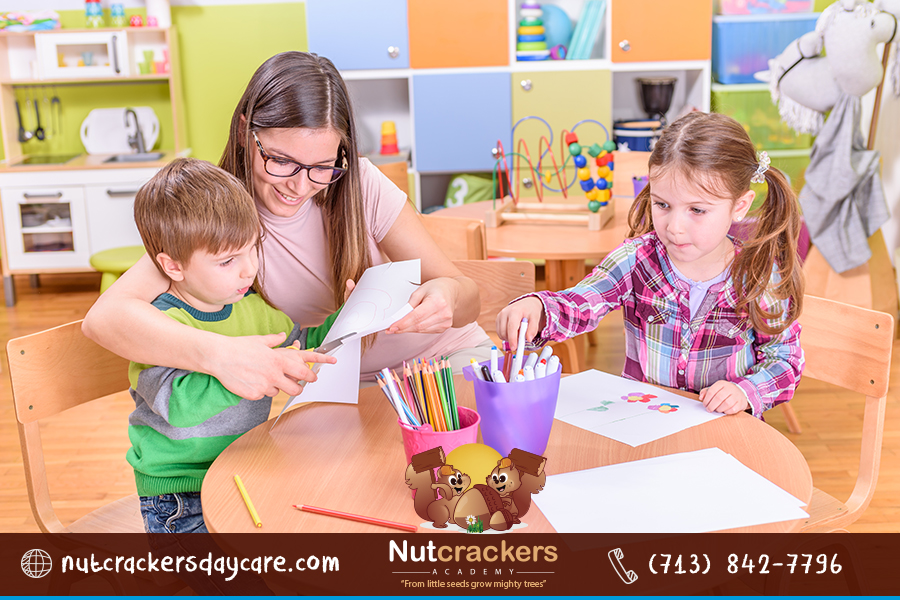 Nutcrackers Daycare Academy in Houston TX
Academy, Children, Infants 1, Infants 2, Toddlers, Preschool, After School.