How to Improve Focus in Children
Teach Kids How to Focus

In our time, devices such as tablets, computers, smart phones, etc., pose a real threat to children. These modern tools trim down the ability to focus clearly. Besides, these gadgets take the kids away from books, and within no time, they will become addicted to the use of these devices. Focusing on a particular subject will be a problem for such children. Parents must take care not to use these gadgets for a long time when they stay within the vicinity of children.

As playing will be of top-most interest to all kids, the best practical way to make them interested in any subject is through playing. You can buy them educational toys such as puzzles, memory games, etc. Besides, you must also play with them, which will make the game more interesting to them. Such games will augment the focusing ability of the child considerably.
There are numerous memory-boosting play items in the present-day market. You must buy such toys for the kids, and make them play those.

Yet another practical way to enhance the capability of focusing is to make the environment calm. You must make it a point that the study time of the kids must remain practically serene. Naturally, the calmness of the ambiance will develop mental alertness in kids, which directly influences the focusing skill.
source: Ezine Articles
Nutcrackers Daycare Academy We are a family owned and operated academy that provides children with a strong foundation to begin their lives. Our teachers are highly trained and extremely attentive to support your child's desire to explore and discover. Our passionate staff values the relationships we have with our families and work hard to involve them in all our activities and decisions. Our facility provides an openness inside and out for a child to feel free to explore, create, and learn in a safe, loving and developmentally appropriate environment. Contact at 713-842-7796.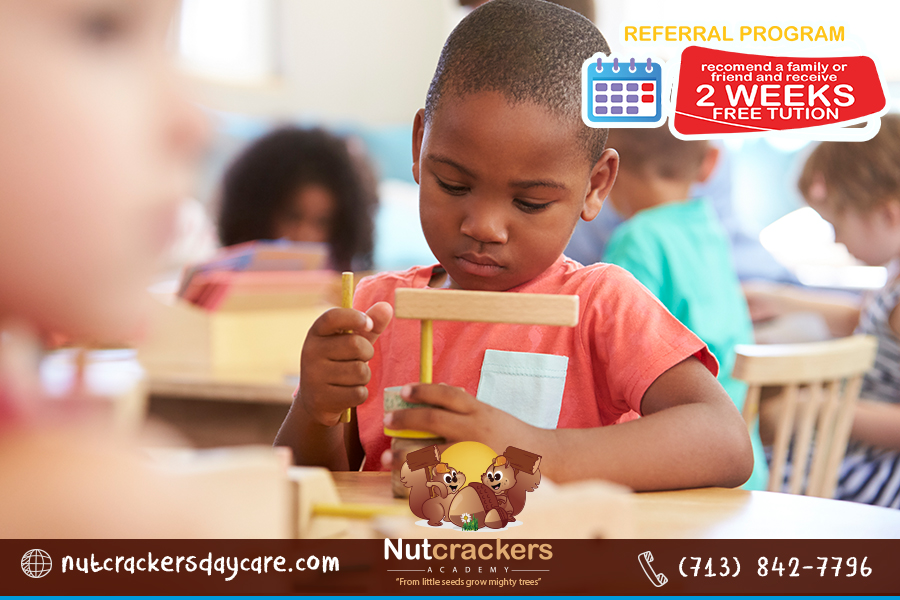 Houston Day Care Academy
Academy, Children, Infants 1, Infants 2, Toddlers, Preschool, After School, Child Care & Day Care, Best Infant Day Care in Houston, Best Child Care in Houston, Childcare in Houston, Daycare & Preschool, Child Care Service Houston, Preschool Houston, Best houston preschool, educational preschool, preschool education, preschool in houston, preschool programs in houston, preschools in houston, Houston preschool, Houston Child care, Houston childcare, Houston daycare, Houston Infant Care, Houston after school care, preschool in Houston, Child care in Houston, childcare in Houston, day care in Houston, daycare in Houston