Why Active Babies Make Smart Kids
A baby's brain grows most rapidly in the first twelve months of life and this is a critical period for learning. Research has shown that the correct stimulation for babies can influence how well they behave, read and learn when they reach school. In addition, they have improved confidence, communication and socialisation skills.

Tummy time: On their tummies babies will develop neck, back, arm, leg and eye muscles, enabling them to gain control over their body
movements – so important for brain development

Baby massage: Massage and loving touch have terrific positive effects on a baby's brain and body, as well as ensuring babies form secure attachments, essential for healthy emotional development

Baby exercises: These are fantastic for stimulating the pathways in the brain that form the foundations for later physical competence as well as connecting parts of the brain that help with thinking, understanding, learning and remembering. Most importantly, babies love them!

Music, dance, songs and rhymes: Music and rhythm develops a baby's listening, speech and language skills, providing building blocks for the future development of reading and writing. Rhythm is also vital for smooth coordinated movement essential for sports and mathematics

Baby balance activities: Babies who have been given regular balance stimulation in the early months of life display improved coordination, posture, balance, control of movement and the ability to learn new activities quickly and efficiently.
source: PBC EXPO
Nutcrackers Daycare Academy We are a family owned and operated academy that provides children with a strong foundation to begin their lives. Our teachers are highly trained and extremely attentive to support your child's desire to explore and discover. Our passionate staff values the relationships we have with our families and work hard to involve them in all our activities and decisions. Our facility provides an openness inside and out for a child to feel free to explore, create, and learn in a safe, loving and developmentally appropriate environment. Contact at 713-842-7796.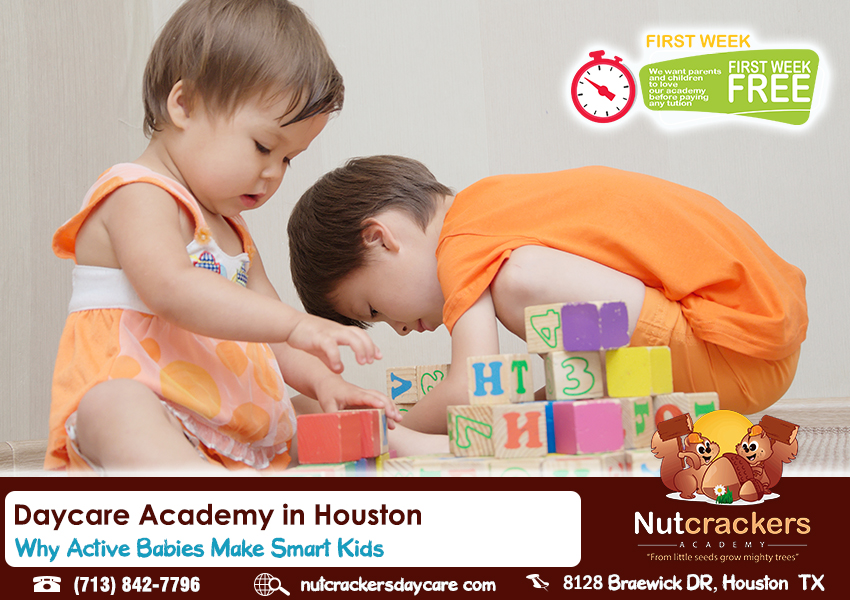 Daycare in Houston TX
Academy, Children, Infants 1, Infants 2, Toddlers, Preschool, After School, Child Care & Day Care, Best Infant Day Care in Houston, Best Child Care in Houston, Childcare in Houston, Daycare & Preschool, Child Care Service Houston, Preschool Houston, Best houston preschool, educational preschool, preschool education, preschool in houston, preschool programs in houston, preschools in houston, Houston preschool, Houston Child care, Houston childcare, Houston daycare, Houston Infant Care, Houston after school care, preschool in Houston, Child care in Houston, childcare in Houston, day care in Houston, daycare in Houston