Let Your Children Play Freely
Playing is a universal subject for children. They consider this as their daily job, from the moment they opened their eyes until the time they fall asleep.
Some studies show that brain connections grow during playing process and it happened to all children.
For kids, however, there isn't any constructive activity than playing. This activity helps them to find out everything about the world they live in. They are able to know and investigate, test theories, develop relationships with others, explore expected outcomes, learn societal roles and family values. The benefits are clear.
Studies have shown that kids, whose parents accompany them playing, ultimately build superior social skills. This kind of activity also offers the chance for them to express their feelings. The significance of coping with difficult or perhaps unpleasant emotions is actually immense.
source: Ezine Articles
Nutcrackers Daycare Academy We are a family owned and operated academy that provides children with a strong foundation to begin their lives. Our teachers are highly trained and extremely attentive to support your child's desire to explore and discover. Our passionate staff values the relationships we have with our families and work hard to involve them in all our activities and decisions. Our facility provides an openness inside and out for a child to feel free to explore, create, and learn in a safe, loving and developmentally appropriate environment. Contact at 713-842-7796.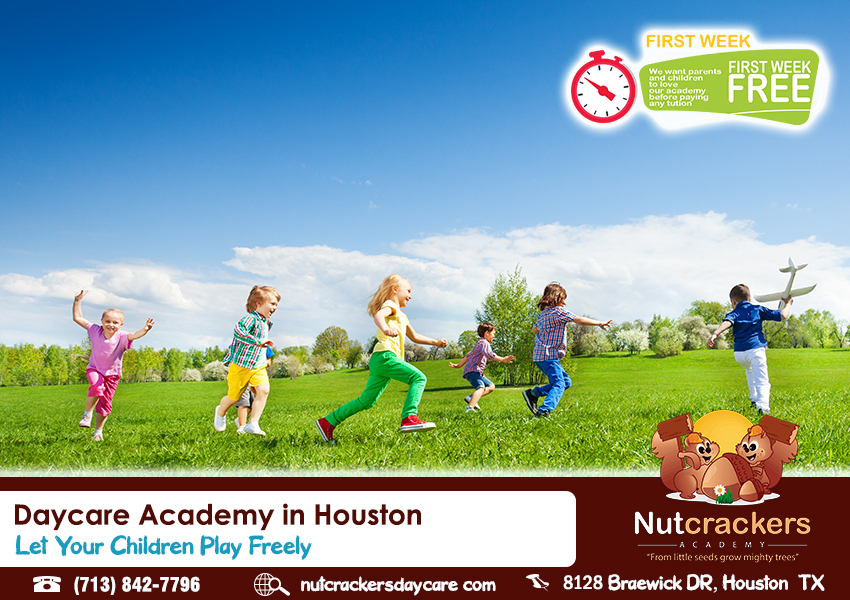 Daycare in Houston TX
Academy, Children, Infants 1, Infants 2, Toddlers, Preschool, After School, Child Care & Day Care, Best Infant Day Care in Houston, Best Child Care in Houston, Childcare in Houston, Daycare & Preschool, Child Care Service Houston, Preschool Houston, Best houston preschool, educational preschool, preschool education, preschool in houston, preschool programs in houston, preschools in houston, Houston preschool, Houston Child care, Houston childcare, Houston daycare, Houston Infant Care, Houston after school care, preschool in Houston, Child care in Houston, childcare in Houston, day care in Houston, daycare in Houston