The Secret to Getting Your Child to Listen Better to YOU at Home
I find the psychology that goes on between a parent and child versus a teacher and child to be very interesting. When you take a moment to think about this situation it is almost comical-almost. It is true that most kids will listen to a teacher better than a parent. This is really reverse of how it should work. It should be that the family members closest to a child gain the respect, and therefore, listening from the child. Here is why this is not the case in most instances:

1. Familiarity. Your child lives under your roof, and sees you on a daily basis. It is only natural for a child to become comfortable around his or her parents.

2. The 'Sports-Hero' Factor. This is another reason that kids listen so well to teachers, sports stars, and others in positions of authority. Kids like seeing someone that can do things physically that are unique in terms of speed, strength and agility. If only we could control what those sports-heroes would say!

3. Formality. The relationship between a teacher and student is more formal. In a martial arts setting there are uniforms, protocol (such as bowing to the instructor), and rules. These all help a child to focus to a higher degree.
source: Ezine Articles
Nutcrackers Daycare Academy We are a family owned and operated academy that provides children with a strong foundation to begin their lives. Our teachers are highly trained and extremely attentive to support your child's desire to explore and discover. Our passionate staff values the relationships we have with our families and work hard to involve them in all our activities and decisions. Our facility provides an openness inside and out for a child to feel free to explore, create, and learn in a safe, loving and developmentally appropriate environment. Contact at 713-842-7796.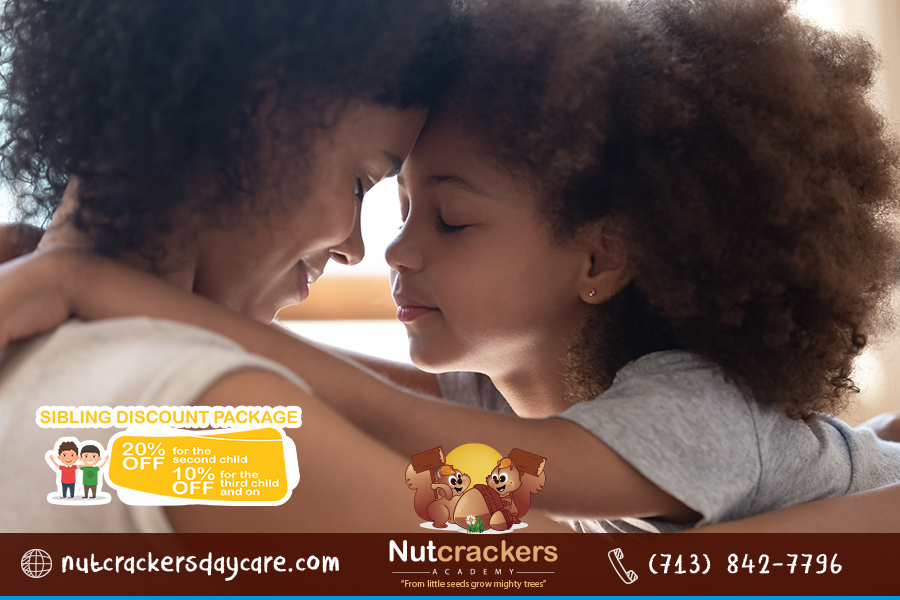 Daycare in Houston TX
Academy, Children, Infants 1, Infants 2, Toddlers, Preschool, After School, Child Care & Day Care, Best Infant Day Care in Houston, Best Child Care in Houston, Childcare in Houston, Daycare & Preschool, Child Care Service Houston, Preschool Houston, Best houston preschool, educational preschool, preschool education, preschool in houston, preschool programs in houston, preschools in houston, Houston preschool, Houston Child care, Houston childcare, Houston daycare, Houston Infant Care, Houston after school care, preschool in Houston, Child care in Houston, childcare in Houston, day care in Houston, daycare in Houston