5 Study Habits For Your Child To Develop Before Starting School
1. Create a study area in your home. This should be away from distractions, like TV or computer, and it should NOT be in their bedroom.

2. Create a set study habit with a set time and structure. For now, the time can be whenever you want, but stick to that time to work with your child. Choose a couple of topics you want to work on--or let your child choose. These topics do not need to be about math. Your child will eventually have homework in everything. Practice whatever you decided on for about 10 to 15 minutes.

3. Start teaching your child how to study, although you have hopefully been doing this all along. Have your child read out loud to make these things both auditory and visual. Start using the word "review." "Let's review our..." Pick something you haven't done for a while. Reviewing past material needs to become an automatic and expected part of studying. As your child has homework, your child should read it out loud and explain any reasoning needed to figure the answer.

4. Check over the work. If he/she has written anything out, have him explain something to you. "Tell me how you did this one." Right now you want your child to be able to give you verbal explanations of what he did and/or why.

5. Always be focusing on and discussing:
(a) Learning is of the utmost important to your child's future.
(b) Learning is his/her responsibility--not yours!
(c) All learning that happens now will make future learning easier. (Learning causes dendrites to grow in the brain making more and more connections with other dendrites. The more connections there are, the easier and better learning becomes. It's true!)
(d) Always keep the learning environment positive, rewarding, and successful.
(e) Provide healthy snacks and do exercise during breaks.
source: Ezine Articles
Nutcrackers Daycare Academy We are a family owned and operated academy that provides children with a strong foundation to begin their lives. Our teachers are highly trained and extremely attentive to support your child's desire to explore and discover. Our passionate staff values the relationships we have with our families and work hard to involve them in all our activities and decisions. Our facility provides an openness inside and out for a child to feel free to explore, create, and learn in a safe, loving and developmentally appropriate environment. Contact at 713-842-7796.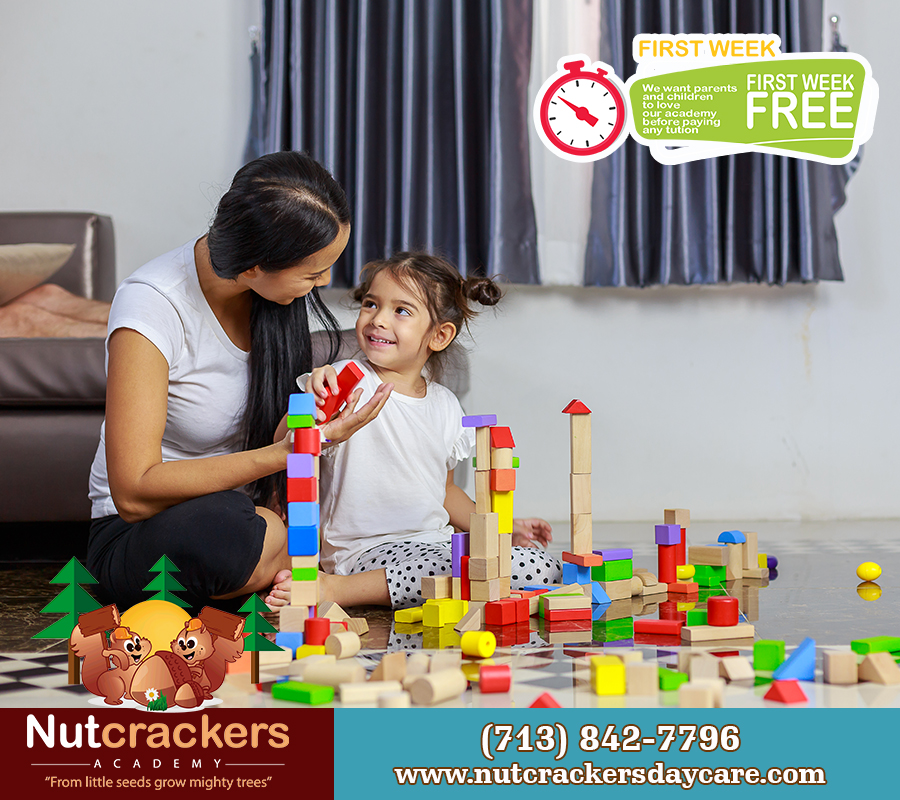 Daycare in Houston TX
Academy, Children, Infants 1, Infants 2, Toddlers, Preschool, After School, Child Care & Day Care, Best Infant Day Care in Houston, Best Child Care in Houston, Childcare in Houston, Daycare & Preschool, Child Care Service Houston, Preschool Houston, Best houston preschool, educational preschool, preschool education, preschool in houston, preschool programs in houston, preschools in houston, Houston preschool, Houston Child care, Houston childcare, Houston daycare, Houston Infant Care, Houston after school care, preschool in Houston, Child care in Houston, childcare in Houston, day care in Houston, daycare in Houston