How Outdoor Play Is Beneficial for Special Kids
Mental Benefits
Special children have a great inferiority complex. However, playing outdoors helps in improving their self-esteem by overcoming obstacles and meeting challenges. Even setting minor challenges help in boosting their confidence as they feel pride in accomplishing something they thought they couldn't do.
Social Skills
Kids with special needs suffer the most from an inability to interact effectively with others. Since playing outdoors is all about teamwork, it provides them with an opportunity to make new friends and interact with them. They share their ideas and listen to others, deal with conflicts that arise during playing and work in a group to meet their goals. They do all this in a low-stress environment and have fun doing so. As a result, they are able to maintain a healthy relationship with their peers due to the improvement of self-confidence, resiliency, and self-advocacy. The process of overcoming challenges in a group helps a great deal in boosting social skills.
Where to Take Kids for Playing Outdoors?
Now, the question is where should you take your kids to play? To be honest, it could be anywhere at all, but wherever you take them, make sure it's safe enough for playing.
source: Ezine Articles
Nutcrackers Daycare Academy We are a family owned and operated academy that provides children with a strong foundation to begin their lives. Our teachers are highly trained and extremely attentive to support your child's desire to explore and discover. Our passionate staff values the relationships we have with our families and work hard to involve them in all our activities and decisions. Our facility provides an openness inside and out for a child to feel free to explore, create, and learn in a safe, loving and developmentally appropriate environment. Contact at 713-842-7796.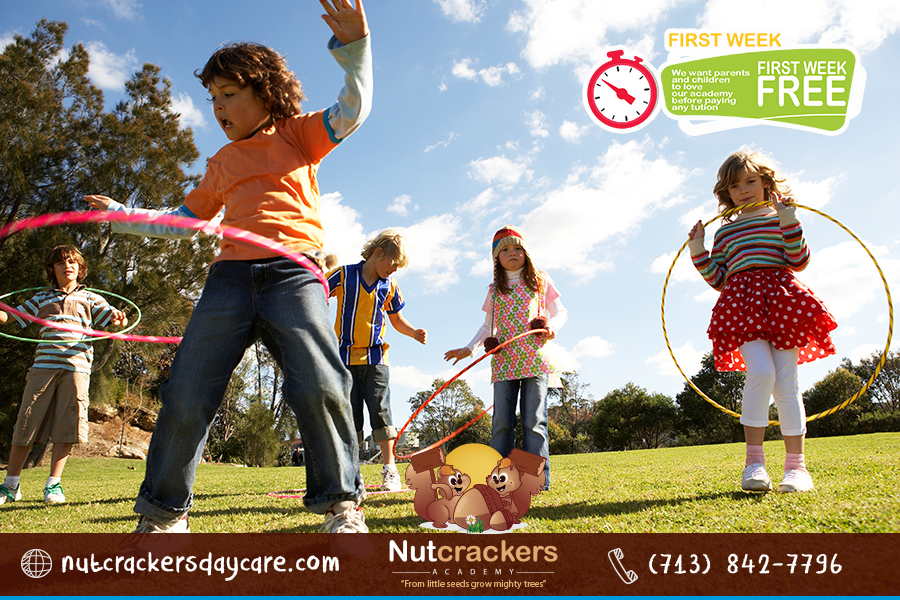 Daycare in Houston TX
Academy, Children, Infants 1, Infants 2, Toddlers, Preschool, After School, Child Care & Day Care, Best Infant Day Care in Houston, Best Child Care in Houston, Childcare in Houston, Daycare & Preschool, Child Care Service Houston, Preschool Houston, Best houston preschool, educational preschool, preschool education, preschool in houston, preschool programs in houston, preschools in houston, Houston preschool, Houston Child care, Houston childcare, Houston daycare, Houston Infant Care, Houston after school care, preschool in Houston, Child care in Houston, childcare in Houston, day care in Houston, daycare in Houston