The Importance of Outdoor Play With Children
The benefits of play include:
It facilitates growth and health
Children develop an understanding of social relationships
Children learn problem solving skills
Children learn communication skills
It increasing confidence, trust in self, and develop a sense of mastery
Children develop a personal identity separate from the family unit
It involves the body and movement
It engages the senses
Children learn friendships
It is a creative experience
It can be spontaneous
It's exciting and fun!
Outdoor Play
Outdoor play is just as essential, if not more so, for healthy cognitive, emotional, physical and social development. There has been a significant decrease over the last few decades in regard to the amount of outdoor play time children take part in. Over that same time period there has been a significant increase in the amount of children's screen time, in the form of television viewing, internet/computer usage, and video games usage, to the point where many children spend forty or more hours per week engaged in such activities. Additionally, dual-income families have become the norm, and parents are working longer hours and bringing work home.
source: Ezine Articles
Nutcrackers Daycare Academy We are a family owned and operated academy that provides children with a strong foundation to begin their lives. Our teachers are highly trained and extremely attentive to support your child's desire to explore and discover. Our passionate staff values the relationships we have with our families and work hard to involve them in all our activities and decisions. Our facility provides an openness inside and out for a child to feel free to explore, create, and learn in a safe, loving and developmentally appropriate environment. Contact at 713-842-7796.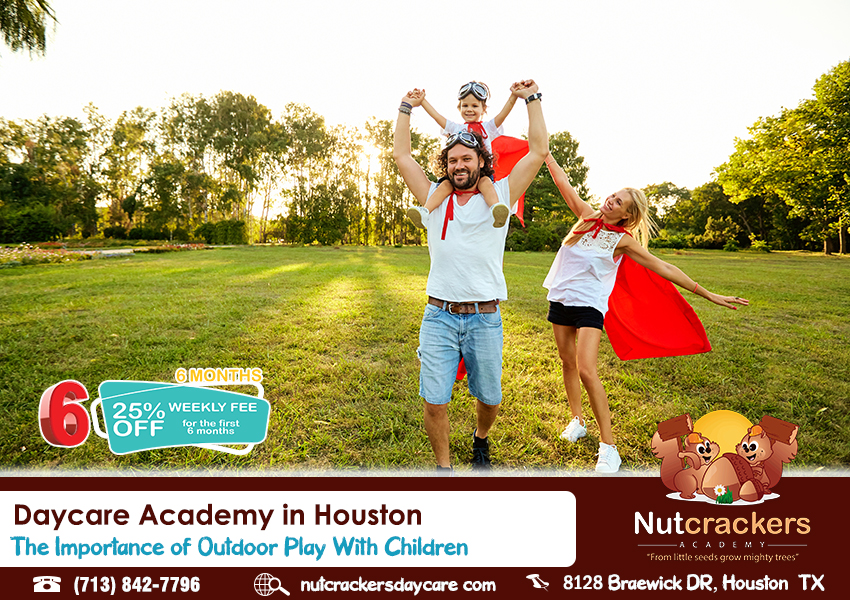 Daycare in Houston TX
Academy, Children, Infants 1, Infants 2, Toddlers, Preschool, After School, Child Care & Day Care, Best Infant Day Care in Houston, Best Child Care in Houston, Childcare in Houston, Daycare & Preschool, Child Care Service Houston, Preschool Houston, Best houston preschool, educational preschool, preschool education, preschool in houston, preschool programs in houston, preschools in houston, Houston preschool, Houston Child care, Houston childcare, Houston daycare, Houston Infant Care, Houston after school care, preschool in Houston, Child care in Houston, childcare in Houston, day care in Houston, daycare in Houston