The Advantajes of Outdoor Play For Children
Children reap many benefits from outdoor play. Not only do they expend energy and exercise their bodies, but they also learn, grow and develop through outdoor play. Outdoor play is essential to motor skill development in children. During outdoor play children practice physical skills such as running and climbing. While adults often have to remind children of the hazards of certain actions, it is often the case that children will have to learn through mistakes. Children learn risk management while participating in various types of outdoor activities. With practice the child can learn to master the skill and experience the satisfaction of overcoming a previously difficult task.

Outdoor play can enhance a child's intellectual and cognitive development. The outdoors provides endless prospects for exploration and discovery. Children are able to discover how things work, and they also have the occasion to learn about plants, animals, insects, and the environment in general. Children may discover how long it takes them to run a certain distance or how much sand a pail will hold. Perhaps they will have the chance to see a bird building a nest or watching a garden grown.
source: Ezine Articles
Nutcrackers Daycare Academy We are a family owned and operated academy that provides children with a strong foundation to begin their lives. Our teachers are highly trained and extremely attentive to support your child's desire to explore and discover. Our passionate staff values the relationships we have with our families and work hard to involve them in all our activities and decisions. Our facility provides an openness inside and out for a child to feel free to explore, create, and learn in a safe, loving and developmentally appropriate environment. Contact at 713-842-7796.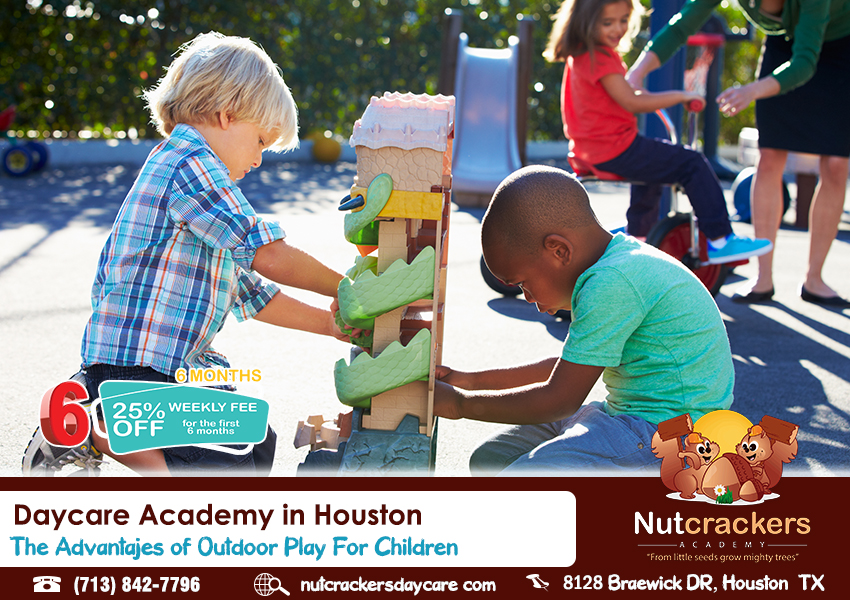 Daycare in Houston TX
Academy, Children, Infants 1, Infants 2, Toddlers, Preschool, After School, Child Care & Day Care, Best Infant Day Care in Houston, Best Child Care in Houston, Childcare in Houston, Daycare & Preschool, Child Care Service Houston, Preschool Houston, Best houston preschool, educational preschool, preschool education, preschool in houston, preschool programs in houston, preschools in houston, Houston preschool, Houston Child care, Houston childcare, Houston daycare, Houston Infant Care, Houston after school care, preschool in Houston, Child care in Houston, childcare in Houston, day care in Houston, daycare in Houston