2 Ways On How To Get Your Child To Listen
There is no better way to raise your child these days, than by having an open-relationship with them. You have to be able to effectively teach your child and train them the right way, if you do not want to end up having spoiled brats for a kid. Now, there are 2 ways on how to get your child to listen to you. You just have to know it. So there is no need for you to give up on your child as early as now. You can actually still change the way your child behave towards you. And they are as follows:

- Pay attention to your child and not just yell at him/her. You have to remember that you also hated it when your parents yelled at you. At times, it also gave your reasons not to listen to them. You feel like they are only hurting you, when their intentions are all good in the first place. These are the very same feelings and thoughts that your child is also going through. So if you hated it, then your child hates it as well. So, if you want your child to listen to you, then the best way to do is to talk to your child in a calm way. There is no need for you to yell profanities at your child as well. You are only teaching your child this bad way of talking to someone. Imagine yourself hearing your child say profanities to others. You only have yourself to blame, if you allow your child to hear these kind of words.

- There is another way on how to get your child to listen. This does not require any spanking or pinching them. Well, in the first place, those tactics won't work at them. Secondly, hurting your child physically is a big "NO-NO!". If you want to know how to get your child to listen, then you can do so by taking away his/her precious toys. Yes, in a heartbeat your child will pay attention to you like never before. This is because your child wouldn't want his/her toys to be taken away from him/her again.
source: Ezine Articles
Nutcrackers Daycare Academy We are a family owned and operated academy that provides children with a strong foundation to begin their lives. Our teachers are highly trained and extremely attentive to support your child's desire to explore and discover. Our passionate staff values the relationships we have with our families and work hard to involve them in all our activities and decisions. Our facility provides an openness inside and out for a child to feel free to explore, create, and learn in a safe, loving and developmentally appropriate environment. Contact at 713-842-7796.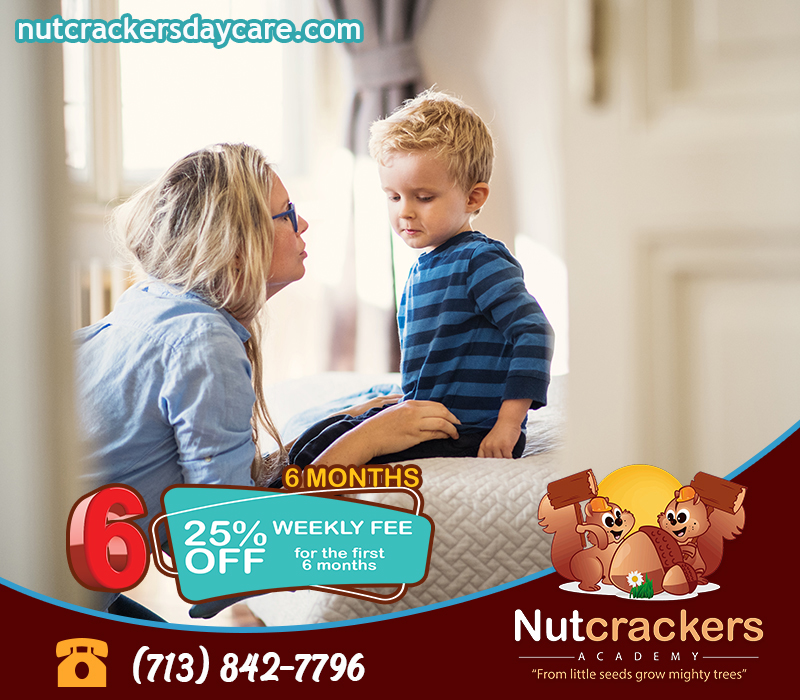 Daycare in Houston TX
Academy, Children, Infants 1, Infants 2, Toddlers, Preschool, After School, Child Care & Day Care, Best Infant Day Care in Houston, Best Child Care in Houston, Childcare in Houston, Daycare & Preschool, Child Care Service Houston, Preschool Houston, Best houston preschool, educational preschool, preschool education, preschool in houston, preschool programs in houston, preschools in houston, Houston preschool, Houston Child care, Houston childcare, Houston daycare, Houston Infant Care, Houston after school care, preschool in Houston, Child care in Houston, childcare in Houston, day care in Houston, daycare in Houston