Loving Your Child Too Much
Many mothers and fathers tell me that they feel they aren't good parents unless they are interacting and teaching every minute. First time parents also may feel that if they don't protect their child with round-the-clock vigilance he really might not be able to protect himself or stay out of trouble.

Unfortunately, all this over-involvement can backfire. For example, if you have always jumped in to make everything perfect, your child can feel that she isn't capable of doing things herself. When she gets upset because she has a little trouble fitting a piece in the puzzle, she will instantly ask for your help rather than spend the time to figure it out herself. She also can feel like a failure and full of shame because she can't live up to your, and her own, high expectations.

If you can sit back, relax, and observe what your child is doing, and acknowledge his actions with a nod of the head or a brief, quiet comment, such as, "Yes, good, you've done it," then you'd be giving true support without pressuring your toddler. For example, our teachers react to a toddler's painting by saying, "Oh, I see you made a red painting," rather than, "That's the most gorgeous painting in the world. What is it? Is it for Mommy or Daddy? Why don't you put a little more green paint in it?"

It's easy to fall into the habit of overreacting in the name of love. Considering the questions that follow may help you step back and look at yourself as parents.
Are you forcing your child to eat rather than merely presenting her with food and allowing her to take what she wants while you go about your business?
Do you rock your child to sleep instead of letting him learn how to fall asleep alone?
Do you rarely let your child cry, or do you allow her to experience some frustration and find ways to comfort herself?
Do you seldom let your child wander more than two inches away, or do you keep a watchful eye from a (short) distance?
Do you teach your child how to climb, jump, hop, or do you trust that she'll learn in his own good time?
Do you push your child because your best friend's child puts the puzzle pieces into the right spot and knows her colours and letters?
(DON'T!)
Do you really believe that you have to play with your toddler every minute of the day, or do you let him play by himself and check in with you? When she calls out, "Mommy; I'm drawing with my crayons," can you stay seated and respond, simply, "Oh, I see you are drawing with your crayons"?
Do you give your child a chance to be persistent and get a little frustrated before you jump in and help?
Do you feel angry when another child takes your child's toy; or do you think, "Oh well, socialization has set in"?
Do you feel embarrassed when your child grabs all the toys from her playground gang, or do you think, "Oops, I guess she's experimenting with her newfound assertiveness"?
Do you make a big fuss when your child gets a little scratch, or do you treat a little scratch with a little hug and a Band-Aid?
Do you always rush to hug your child instead of giving him the chance to give the first hug? (Second and third children are often more cuddly because their parents don't always give the first hug and kiss.)
Is your child predominantly demanding, impatient, and cranky? (Catering to her every wish can turn her into a little Napoleon.)
Does your child become exceptionally demanding and angry when you pay attention to others? (How about trying out some of the old diversion techniques when you are talking on the phone? "I see you don't like me to talk to Aunt Tilly. Why don't you call your cousin on your play phone and I'll be off in a few minutes.")
Do you often feel as though your firstborn is a rope around your neck? (Anyone would at times. Who wants to live with a prima donna 24 hours a day?)
source: Ezine Articles
Nutcrackers Daycare Academy We are a family owned and operated academy that provides children with a strong foundation to begin their lives. Our teachers are highly trained and extremely attentive to support your child's desire to explore and discover. Our passionate staff values the relationships we have with our families and work hard to involve them in all our activities and decisions. Our facility provides an openness inside and out for a child to feel free to explore, create, and learn in a safe, loving and developmentally appropriate environment. Contact at 713-842-7796.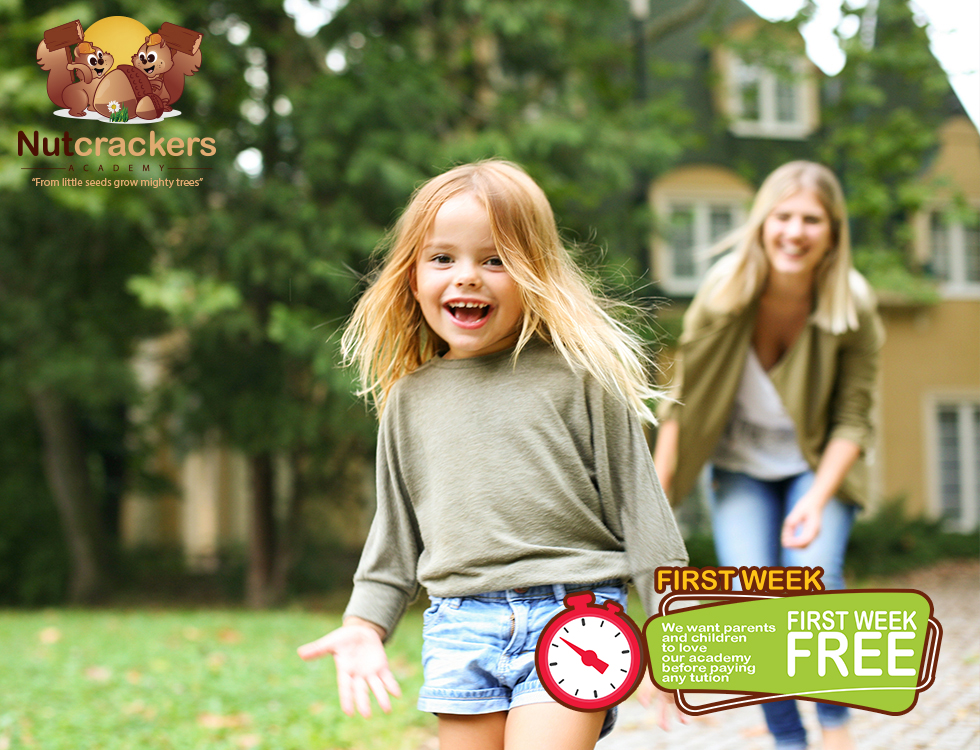 Daycare in Houston TX
Academy, Children, Infants 1, Infants 2, Toddlers, Preschool, After School, Child Care & Day Care, Best Infant Day Care in Houston, Best Child Care in Houston, Childcare in Houston, Daycare & Preschool, Child Care Service Houston, Preschool Houston, Best houston preschool, educational preschool, preschool education, preschool in houston, preschool programs in houston, preschools in houston, Houston preschool, Houston Child care, Houston childcare, Houston daycare, Houston Infant Care, Houston after school care, preschool in Houston, Child care in Houston, childcare in Houston, day care in Houston, daycare in Houston