Three Basic Tips to Teach Your Child to Read
A child's reading ability and his surroundings: You must be aware, and take advantage of the fact that there is an intrinsic relationship between your child's ability to read and his surroundings.

· A child's resource in his surrounding: The resources are everywhere and the child knows it. However, you, the parent, are the best resource available to your child. Be an active facilitator and bridge builder.

· A child success in school is largely dependent on his ability to read before he gets there. Teach them read early and you will see them excel in school.

A CHILD'S READING ABILITY AND HIS SURROUNDING

It is fascinating to see the interaction between children and their surroundings; take advantage of this opportunity early in life. Your children's ability to read will help them to have a better grasp of their surroundings. He or she will to be able think and understand better what they see, touch and play with. You do not need to be a developmental specialist to know these things.

Just a look at your toddler for a while and you will see his interaction with his environment. Your child is not afraid to explore new things; he touches anything, smells anything, and tastes anything; he is like an explorer discovering new things all the time.

A CHILD'S RESOURCE IN HIS SURROUNDING

The parents are the best and most valuable resources that a child has. Parents introduce the child to new things and new experiences. Take advantage of the trust between you two and teach your child to read.

I cannot mention every suggestion here, as I usually do in longer articles, but you will soon discover that the process is easy and totally natural, so that your child will actually enjoy learning to read very early in life.

A CHILD SUCCESS IN SCHOOL

You cannot imagine how powerful early reading is for the success of your child in school. Several studies indicate that when a child learns to read before attending school they do well in every aspect of formal schooling.

He will also develop other important skills such as reading a book, clarity of speech, communications, thinking, and an array of other skills.
source: Ezine Articles
Nutcrackers Daycare Academy We are a family owned and operated academy that provides children with a strong foundation to begin their lives. Our teachers are highly trained and extremely attentive to support your child's desire to explore and discover. Our passionate staff values the relationships we have with our families and work hard to involve them in all our activities and decisions. Our facility provides an openness inside and out for a child to feel free to explore, create, and learn in a safe, loving and developmentally appropriate environment. Contact at 713-842-7796.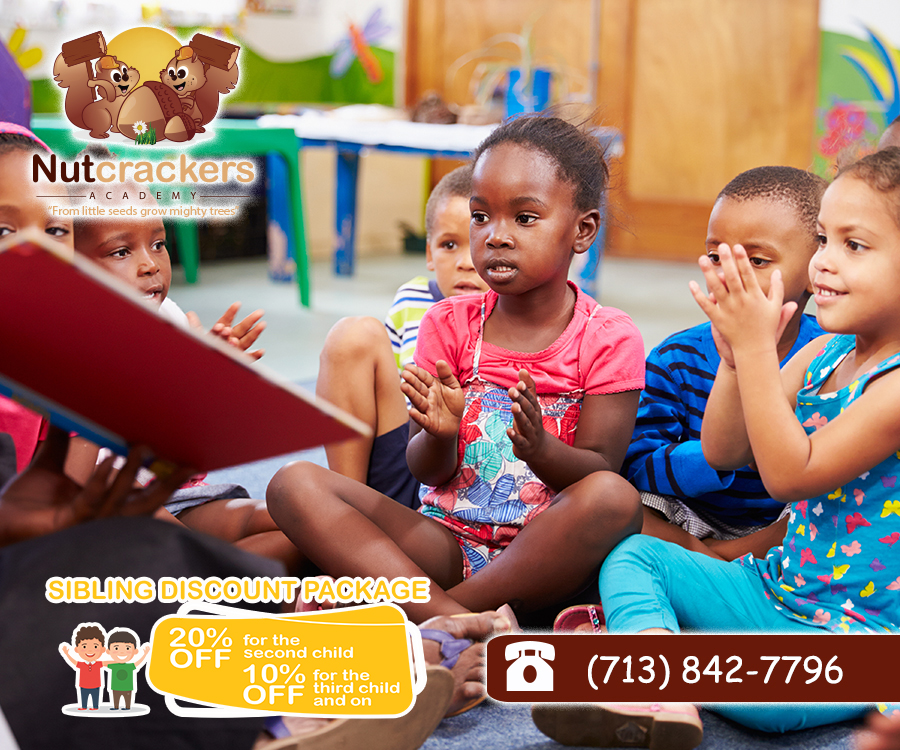 Daycare in Houston TX
Academy, Children, Infants 1, Infants 2, Toddlers, Preschool, After School, Child Care & Day Care, Best Infant Day Care in Houston, Best Child Care in Houston, Childcare in Houston, Daycare & Preschool, Child Care Service Houston, Preschool Houston, Best houston preschool, educational preschool, preschool education, preschool in houston, preschool programs in houston, preschools in houston, Houston preschool, Houston Child care, Houston childcare, Houston daycare, Houston Infant Care, Houston after school care, preschool in Houston, Child care in Houston, childcare in Houston, day care in Houston, daycare in Houston