Play Is Important for Child Development and Learning
Which skills does play develop?
Gross motor: This is the obvious area. People see children running and climbing and can clearly see that they are developing their muscle strength, coordination and balance. Parents want their children to quickly move from doing this in free play to participating in organised sports. While organised sport is good for children, if the child's gross motor activity becomes too regulated too soon, he is going to specialise in some movements (those specific to his sports) and miss out on the development of others (such as climbing trees). The more diverse a child's physical play can be, the more chance he has of developing his muscles and overall coordination in a balanced way. He is less likely to develop early tight tendons ( I see many children with tight tendons at the back of the knees) and less likely to develop weak core muscles (we are seeing more and more young children walking around with poor posture due to weak core muscles).
Fine motor: Beginning to learn to use a pencil before you have developed finger and thumb strength and stability results in a child developing an inefficient pencil grip. When a child has weak thumb stabilisers, he is likely to wrap his thumb around his index finger to try to create greater stability. This makes it very difficult for him to then develop the necessary finger isolation (separate movement of the fingers to give easy, dextrous pencil control). Children who have not yet developed their wrist stability will try to use whole-arm movements to do their drawings and writing and will press very hard. If a child has not developed the bilateral integration (this happens in the brain and is the smooth, efficient communication of the right side of the brain with the left) cutting will be difficult and he will have difficulty writing across his page and reading across a page or school board. Beginning to use a pencil too soon therefore inhibits learning in a formal class setting, rather than helping it.
How can we develop all these fine motor foundations? Climbing ropes and trees and swinging from "monkey bars" builds core strength, shoulder girdle strength, wrist and hand strength and bilateral integration. A child who is encouraged to experiment with clay, tearing paper, finger-painting and painting with different sized sponges is practicing his fine motor skills and preparing his hands to cope well with a pencil.
Sensory Integration: Children who have an opportunity to play with diverse media and in different sensory settings are better able to develop their sensory systems. Allowing a child to spend time in the sensory environments he finds most comfortable, gives him the inner strength to cope with those he finds more challenging and then gradually build his sensory system to be able to cope with them.
Visual perceptual skills: Visual perception develops through a child's interaction with his environment. When a child stretches his arm to reach a high branch, or climbs through a tunnel in an obstacle course, he is developing his spatial perception. Shape perception is developed by a child grasping and manipulating many different objects in play. When he cannot find the toy he wants and has to search for it in his toy-box, he is developing figure-ground perception.
Verbal skills and Language: Children playing are constantly talking, either with themselves, explaining the aspects of the imaginary situation, or with the other children involved. Researchers have found that less verbal children speak more during imaginary play. In imaginary play, children are therefore experimenting with and developing their language and communication skills.
Playing fun games where word sounds are changed, learning silly rhymes and making up nonsense words helps children develop their phonics skills and auditory processing. If these are simply taught in a formal way, the child feels no real ownership and finds it harder to remember all the different sounds the written letters represent. If he plays games and experiments with the sounds in words, his feeling of being in control of the words and the sounds is greater, making it easier for him to learn and remember his phonics. He develops an actual concept of how sounds make up words.
Thinking skills (cognition): Thinking is a kind of "inner speech". We talk silently to ourselves to think through things and solve problems. Children in imaginative play begin to develop this skill through talking aloud and explaining everything that is happening in the game. (Think of the children playing in the "home corner" in your playschool and how they tell each other what to do and talk to the dolls and teddies). Slowly, as they become more practiced, this talking changes to become "inner speech" (they think it but don't say it out loud). This is a major foundation for developing thinking and reasoning skills.
source: Ezine Articles
Nutcrackers Daycare Academy We are a family owned and operated academy that provides children with a strong foundation to begin their lives. Our teachers are highly trained and extremely attentive to support your child's desire to explore and discover. Our passionate staff values the relationships we have with our families and work hard to involve them in all our activities and decisions. Our facility provides an openness inside and out for a child to feel free to explore, create, and learn in a safe, loving and developmentally appropriate environment. Contact at 713-842-7796.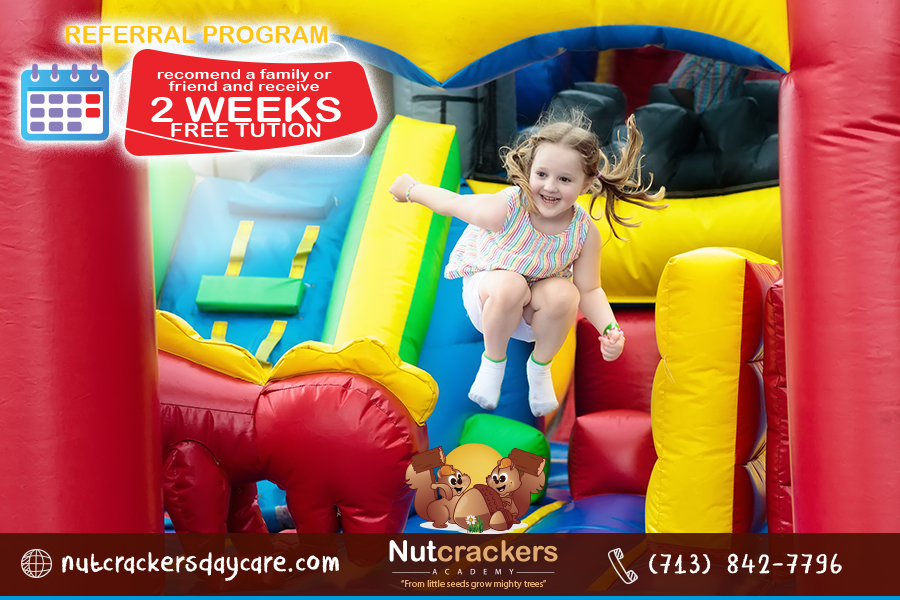 Daycare in Houston TX
Academy, Children, Infants 1, Infants 2, Toddlers, Preschool, After School, Child Care & Day Care, Best Infant Day Care in Houston, Best Child Care in Houston, Childcare in Houston, Daycare & Preschool, Child Care Service Houston, Preschool Houston, Best houston preschool, educational preschool, preschool education, preschool in houston, preschool programs in houston, preschools in houston, Houston preschool, Houston Child care, Houston childcare, Houston daycare, Houston Infant Care, Houston after school care, preschool in Houston, Child care in Houston, childcare in Houston, day care in Houston, daycare in Houston