Top 10 Ways to Boost the Self-Esteem of Your Child
Top 10 Ways to Help Build a Child's Self-Esteem

If you think that your son is painfully shy or if you have a daughter who is always within her shell, how do you make their personalities blossom? Here are the top ten ways by which parents can help develop their child's self-esteem:

1. Express love and affection at all times.
A child who always feels loved and receives great affection can subconsciously develop a feeling of self-worth.

2. Provide compliments when needed - but make sure they're sincere.
For parents, compliment must be given often even on small things that are done right. Saying "I'm so proud of you!" will mean a lot to your child, even for the most minor accomplishments. However, make sure that the compliment is sincere. Statements such as "You are the best daughter in the world!" or you are the nicest person are exaggerated compliments that must be avoided. These will develop an inflated ego which may later on result in a negative self-esteem. Not dishing out unreal compliments will also help your kid not deal with rejection or disappointments later on.

3. Set attainable goals for your child.
Ensure that goals set are suited to your child's age and capabilities. Unattainable goals may result to negative self-esteem. Coaching your child in the attainment of goals will help not just in developing a healthy sense of self-worth, but also in achieving similar goals in the future.

4. Make sure that your child's feelings are validated.
If your child gets offended by other people's hurtful comments, validate his or her feelings. This will allow your child to be more open to you and the negative comment will help him or her deal with future disappointments once out in the real world.

5. Be proud of your child.
You should regularly express to your child how lucky you are to be parents.

6. Talk positively about your child.
This is essential, especially in the presence of important people for your child as teachers, classmates and friends.

7. Never compare your child with others.
When comparison cannot be avoided, make sure that reassurance is still given so that your child will feel special and unique in his or her own way.

8. Inform other people dealing with your child about his or her strengths.
This is most important when your child begins schooling. Inform the teacher of your child's strength so that they will continue to build those strengths.

9. Regularly tell your child that you will love him unconditionally.
When failure comes his way, let him know that you will love him no matter what!

10. Develop your own self esteem.
Finally, make sure that you as a parent have a healthy sense of self-esteem. How can you lead by example if you are showing your child a lot of insecurities about your weight, your capabilities, etc.? Having a positive outlook in life is a great example to set for your child.
source: Ezine Articles
Nutcrackers Daycare Academy We are a family owned and operated academy that provides children with a strong foundation to begin their lives. Our teachers are highly trained and extremely attentive to support your child's desire to explore and discover. Our passionate staff values the relationships we have with our families and work hard to involve them in all our activities and decisions. Our facility provides an openness inside and out for a child to feel free to explore, create, and learn in a safe, loving and developmentally appropriate environment. Contact at 713-842-7796.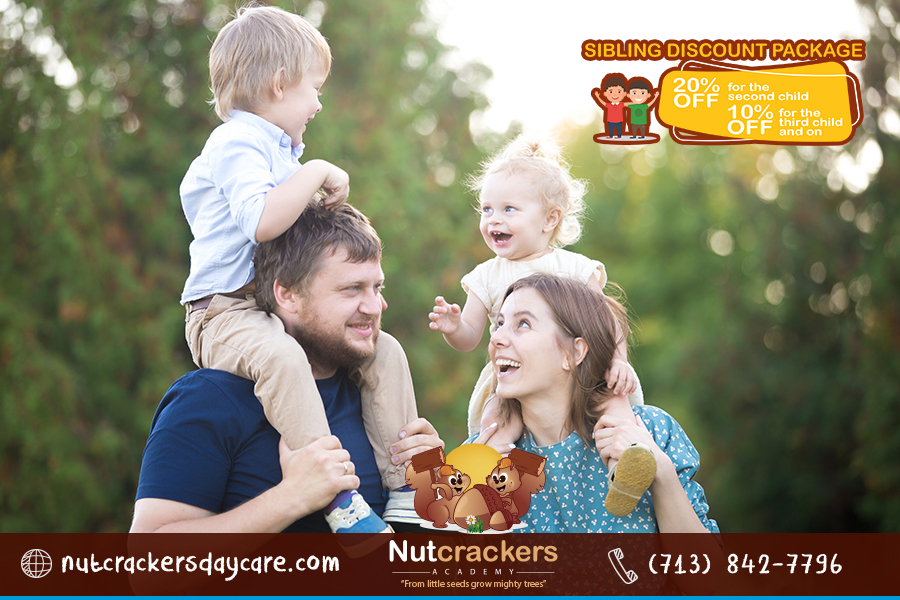 Daycare in Houston TX
Academy, Children, Infants 1, Infants 2, Toddlers, Preschool, After School, Child Care & Day Care, Best Infant Day Care in Houston, Best Child Care in Houston, Childcare in Houston, Daycare & Preschool, Child Care Service Houston, Preschool Houston, Best houston preschool, educational preschool, preschool education, preschool in houston, preschool programs in houston, preschools in houston, Houston preschool, Houston Child care, Houston childcare, Houston daycare, Houston Infant Care, Houston after school care, preschool in Houston, Child care in Houston, childcare in Houston, day care in Houston, daycare in Houston