Developmental Needs Of A Child
Childhood programs
Most childhood programs are mainly focused on both care and education. The educational component was added to child care programs due to many studies that were conducted. The studies found that the early experiences of children have a great impact on how they develop and even on their future academic success. A center that is offering quality in child care should have programs that include activities and materials that take care of the cognitive, social/emotional and physical developmental needs of the child.
Physical development
The best indicator of physical development in a child is the growth of the child. A healthy and nutritious diet is important for the growth of the child, while genetic factors also have a role to play. Motor skills are physical actions that are learned by a child to produce movements that are well organized and coordinated. Gross motor skills are larger and include walking, running, crawling and rolling. Fine motor skills include hand and eye coordination, drawing and coloring. The care center you select should have activities that will develop the motor skills of your child, as well as providing a healthy diet.
Cognitive development
The cognitive development of the child has to do with the development of language skills and the ability to evaluate a situation and determine action. The child is able to recall past experiences and can retain information and make comparisons. A small percentage of cognitive skills come from within the child; however, most of the cognitive skills have to be learned.
Social/emotional development
Caregivers have a good opportunity to enhance the healthy social/emotional development of your child. Positive social experiences in early childhood result in emotional maturity in later stages of the child's life. A child may forget their childhood experiences; however, these experiences still play a big role in influencing the child's emotions, personality and social/emotional health as she continues to mature.
source: Ezine Articles
Nutcrackers Daycare Academy We are a family owned and operated academy that provides children with a strong foundation to begin their lives. Our teachers are highly trained and extremely attentive to support your child's desire to explore and discover. Our passionate staff values the relationships we have with our families and work hard to involve them in all our activities and decisions. Our facility provides an openness inside and out for a child to feel free to explore, create, and learn in a safe, loving and developmentally appropriate environment. Contact at 713-842-7796.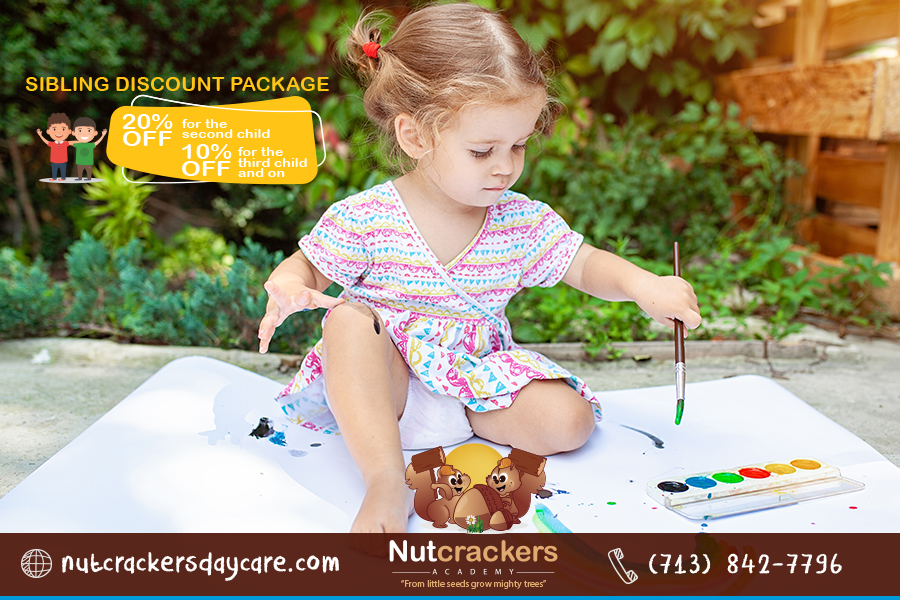 Daycare in Houston TX
Academy, Children, Infants 1, Infants 2, Toddlers, Preschool, After School, Child Care & Day Care, Best Infant Day Care in Houston, Best Child Care in Houston, Childcare in Houston, Daycare & Preschool, Child Care Service Houston, Preschool Houston, Best houston preschool, educational preschool, preschool education, preschool in houston, preschool programs in houston, preschools in houston, Houston preschool, Houston Child care, Houston childcare, Houston daycare, Houston Infant Care, Houston after school care, preschool in Houston, Child care in Houston, childcare in Houston, day care in Houston, daycare in Houston