Helping Your Kid Adjust To Life In Child Care
Here are important tips to help your child adjust to the transition:
- Before the day of enrolling your child to a care centre, ensure that you talk to your child first. Tell them about the centre they will be joining and activities they'll be engaging in.
- Visit the centre with your kids to make them familiar with the new environment, and meet the staff and other children. Children ask a lot of questions about new things. Ensure that you answer all your child's questions clearly. Also, try and observe your child's behaviour while at the centre.
- On the first day of leaving your child at the centre, arrive at least 15 minutes earlier than normal time. Use this time to engage in an activity with your boy/girl. If he/she enjoys the activity and the new environment, it will be easy for you to leave. Take your time before leaving to allow yourself time to observe your child.
- You can allow your kids to carry toys from home. These will help them adjust easily because they will have something familiar with them.
- Your body language and facial expressions communicate a lot to your child. Try not to be emotional while seeing them off. This will affect their emotions too.
source: Ezine Articles
Nutcrackers Daycare Academy We are a family owned and operated academy that provides children with a strong foundation to begin their lives. Our teachers are highly trained and extremely attentive to support your child's desire to explore and discover. Our passionate staff values the relationships we have with our families and work hard to involve them in all our activities and decisions. Our facility provides an openness inside and out for a child to feel free to explore, create, and learn in a safe, loving and developmentally appropriate environment. Contact at 713-842-7796.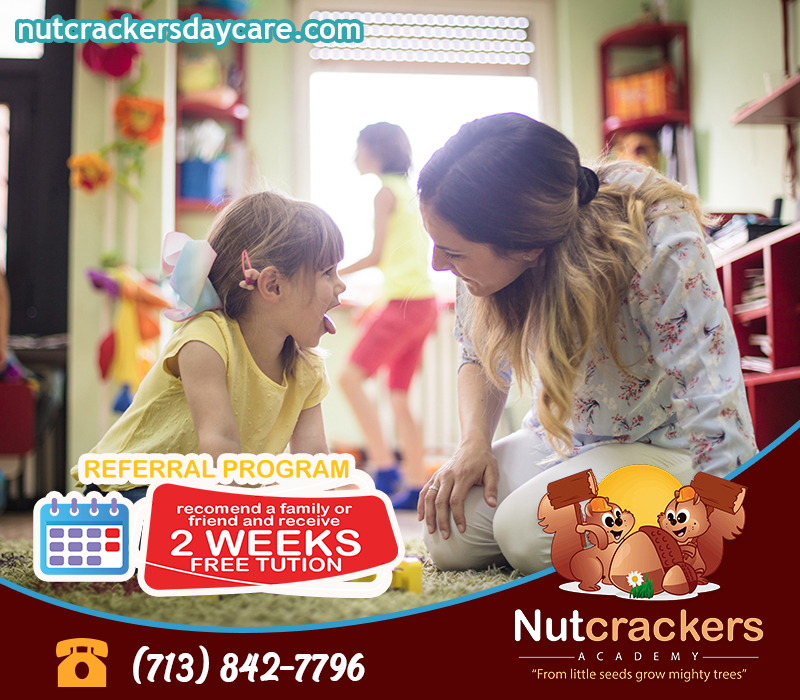 Daycare in Houston TX
Academy, Children, Infants 1, Infants 2, Toddlers, Preschool, After School, Child Care & Day Care, Best Infant Day Care in Houston, Best Child Care in Houston, Childcare in Houston, Daycare & Preschool, Child Care Service Houston, Preschool Houston, Best houston preschool, educational preschool, preschool education, preschool in houston, preschool programs in houston, preschools in houston, Houston preschool, Houston Child care, Houston childcare, Houston daycare, Houston Infant Care, Houston after school care, preschool in Houston, Child care in Houston, childcare in Houston, day care in Houston, daycare in Houston