Nurture Our Children Through Books - It Is Where Creativity and Imagination Can Blossom
If you really think about it, the importance of a child's life must be at the top of our list of importance. What we experience as little children helps us tackle the challenges as an adults. Remember, Robert Fulghum's book "All I Really Need to Know I Learned in Kindergarten?" On the original pages he wrote the points that he learned while he was in Kindergarten. I just love this one..."To Live a Balanced Life, learn, think some and draw and paint and sing and dance and work every day some." He also relates about the wisdom he received in the sand pile. As I relate to now versus earlier in my life, I can say that my positive attitude came from lessons I learned as a child.
My parents loved books,as well. However, they also applied some of the lessons from these children's books in a way to help me learn about the world around me. They taught me about life just like Mr. Roger's type of teachings. They provided me the fantasies through books however, they lived life and introduced life in a "real" way providing me such exciting experiences as well as teaching me about taking on responsibilities and commitments as a member of our family. I really never knew that there was such a thing as adult problems. Fred Roger's of Mr. Roger's Neighborhood would have loved to have visited my neighborhood and visited with my parents. He believed a child must have provided real lessons such as learning to feed the goldfish and learning that this was fun but a responsibility as well as enjoying the love of creativity through puppets and fantasy. However, he also felt that a child must be a child and that there is time enough to learn about adult's problems.
As an educator, both on the elementary level as well as pre-school, I have discovered that books have given birth to many exciting ideas, lessons and stories which I have used with the children in my care. As the title of this article speaks of "NOW." Now means a great deal to my work. Now stands for "Nurturing Our World" within us as well as Nurturing Our World around us. The pages of books nurture our world. They Ignite Passion for Life and Living It! What a great reason to pick up a book and share with a child. Let them read to you. Let them explain the story to you. Be part of the creation of your child's world and have fun! There is nothing like seeing the world through the eyes of a child. We just might open our own eyes with new lenses as well.
source: Ezine Articles
Nutcrackers Daycare Academy We are a family owned and operated academy that provides children with a strong foundation to begin their lives. Our teachers are highly trained and extremely attentive to support your child's desire to explore and discover. Our passionate staff values the relationships we have with our families and work hard to involve them in all our activities and decisions. Our facility provides an openness inside and out for a child to feel free to explore, create, and learn in a safe, loving and developmentally appropriate environment. Contact at 713-842-7796.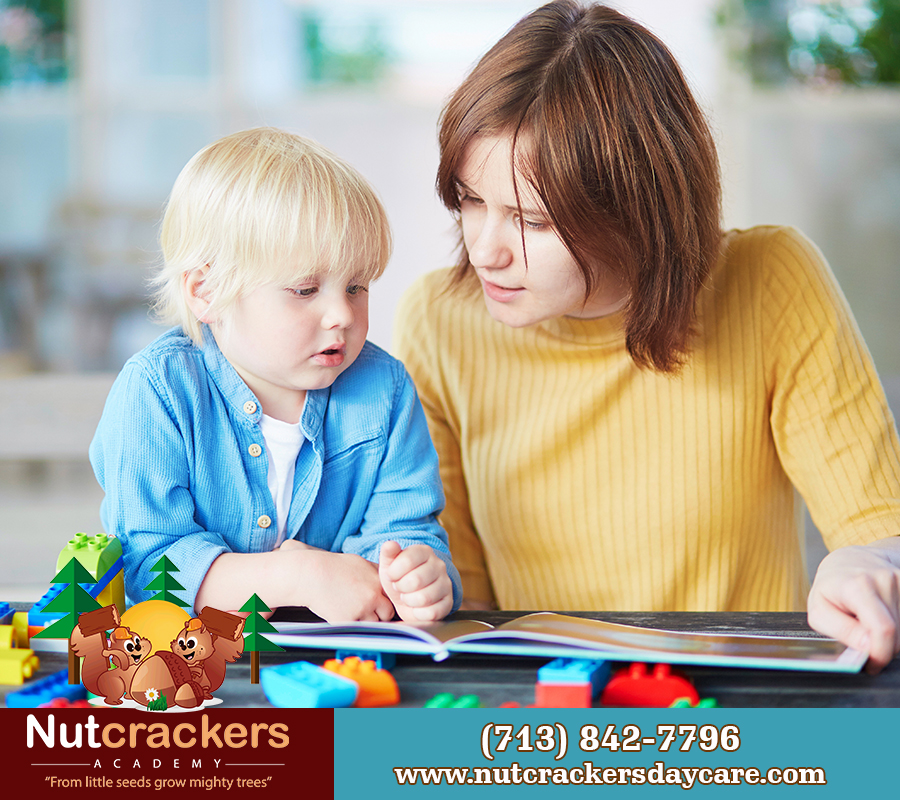 Daycare in Houston TX
Academy, Children, Infants 1, Infants 2, Toddlers, Preschool, After School, Child Care & Day Care, Best Infant Day Care in Houston, Best Child Care in Houston, Childcare in Houston, Daycare & Preschool, Child Care Service Houston, Preschool Houston, Best houston preschool, educational preschool, preschool education, preschool in houston, preschool programs in houston, preschools in houston, Houston preschool, Houston Child care, Houston childcare, Houston daycare, Houston Infant Care, Houston after school care, preschool in Houston, Child care in Houston, childcare in Houston, day care in Houston, daycare in Houston