Stages in the Development of Play
Play serves as important function in a child's education and development. Play begins at birth and helps children learn about their world, express their feelings and ideas, and develop social relationships with the people they encounter throughout their life. There are two, possibly three, stages that children go through as they learn through play.
The first is the sensorimotor or exploratory stage of infancy and is usually the first two years of life. In this stage, infants learn by experimenting with the reactions of their actions. In the beginning of this stage the infant will use the same action for all objects and objectives. As infants explore, they discover that certain actions give them the results that they desire and others do not. This is sometimes referred to as "practice play". In this stage there is no real difference between exploration and play because infants use exploration to acquire information and play to influence the environment, both of which are important learning factors.
The second stage is a level of symbolic play or the stage of dramatic or pretend play that is characteristic of preschoolers and kindergarteners. Play becomes more intellectual at this stage because children start to represent their world through pretend play or role playing. Preschool and kindergarten children spend less time exploring than infants and toddlers. Gradually practice play is replaced by constructive play, in which children engage in self-regulating creation or construction of a product or problem solution. This stage of play provides children with a unique way to problem solve and challenge themselves. This stage is the peak of pretend play. Children with replica objects (miniature dolls, action figures, cars, etc.), with realistic or non-realistic normal-sized objects or without objects.
Children at this stage are better at using imaginary objects than they were int he previous stage. They can also use objects to represent other objects, for example, using a stick as a sword or a block as cookie. Children at this stage are also able to perform mature role-play, which requires the ability to set up the context for play. They use what they have experienced in their own life- how adults talk to babies, talk on the phone, etc. Other children are invited to play, roles are assigned, and context is established (but may change as play progresses). Verbal role taking is possible in two registers if dolls are involved- one for the mother and one for the baby. The most typical social interaction at preschool-age level is pretend play. Pretending seems to assist unfamiliar peers by providing a means by which children can find common ground for interaction.
source: Ezine Articles
Nutcrackers Daycare Academy We are a family owned and operated academy that provides children with a strong foundation to begin their lives. Our teachers are highly trained and extremely attentive to support your child's desire to explore and discover. Our passionate staff values the relationships we have with our families and work hard to involve them in all our activities and decisions. Our facility provides an openness inside and out for a child to feel free to explore, create, and learn in a safe, loving and developmentally appropriate environment. Contact at 713-842-7796.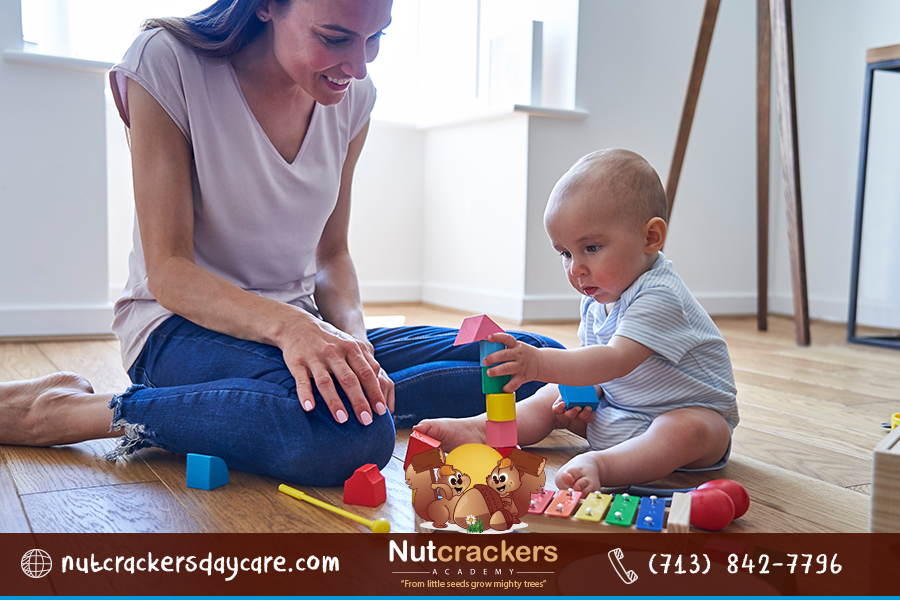 Daycare in Houston TX
Academy, Children, Infants 1, Infants 2, Toddlers, Preschool, After School, Child Care & Day Care, Best Infant Day Care in Houston, Best Child Care in Houston, Childcare in Houston, Daycare & Preschool, Child Care Service Houston, Preschool Houston, Best houston preschool, educational preschool, preschool education, preschool in houston, preschool programs in houston, preschools in houston, Houston preschool, Houston Child care, Houston childcare, Houston daycare, Houston Infant Care, Houston after school care, preschool in Houston, Child care in Houston, childcare in Houston, day care in Houston, daycare in Houston