What is a Daycare?
There are many options working parents have in deciding where their children will be cared for while they are at work and who will care for them. Some parents decide that the best option for them and their child is to have a personal nanny, use a home-based daycare, while others prefer a private local daycare. Many parents now prefer to use daycares as opposed to nannies as daycares have become just as easily accessible. Parents choose to use daycares because they are affordable, regulated and safe (for those licensed), are experts in childcare, and are reliable.
• There are many affordable options available within the daycare world and an increasing number of parents are turning to this out-of-home option in caring for their younger children and toddlers. From the parent's point of view, daycare frees up some of their time, allows them a few hours or rest and peace, and improves the social skills of their offspring. Many non-profit, private, and religious-based daycares provide a local daycare service for a cheaper price. Some non-profit and government based daycares may even be free or only ask for a small donation in return for their services.
• Many local daycares (the ones worth looking into) are licensed and therefore monitored in some way, with guidelines set up by the state as well as a private company. Policies involve aspects of a local daycare such as the ratio of children to adult (which is often on a graduated scale by age group). Then there are also rules established to help prevent the spreading of illness between such a large, intimate group of fragile bodies. Other areas that licensure regulate are emergency procedures and educational curriculum. Some educational curriculum can be based in religion, while others may be geared a bit more towards the secular side. It is up to the parents to make a decision based on which type they would like their child enrolled in.
• Daycares, like any other service, are specialized in their field. Parents appreciate that aspect of local daycares because it means that everyone involved in watching over their child has been trained and educated. Caretakers have a vast and solid knowledge of every aspect in caring for the wellbeing of children: physical, emotional, and educational. This allows parents to enroll their children in a local daycare with full confidence that their most precious treasure is in good hands and under a watchful, well-trained eye (s). The caretakers at your local daycare have receive specialized training in preparing your child for kindergarten.
source: Ezine Articles
Nutcrackers Daycare Academy We are a family owned and operated academy that provides children with a strong foundation to begin their lives. Our teachers are highly trained and extremely attentive to support your child's desire to explore and discover. Our passionate staff values the relationships we have with our families and work hard to involve them in all our activities and decisions. Our facility provides an openness inside and out for a child to feel free to explore, create, and learn in a safe, loving and developmentally appropriate environment. Contact at 713-842-7796.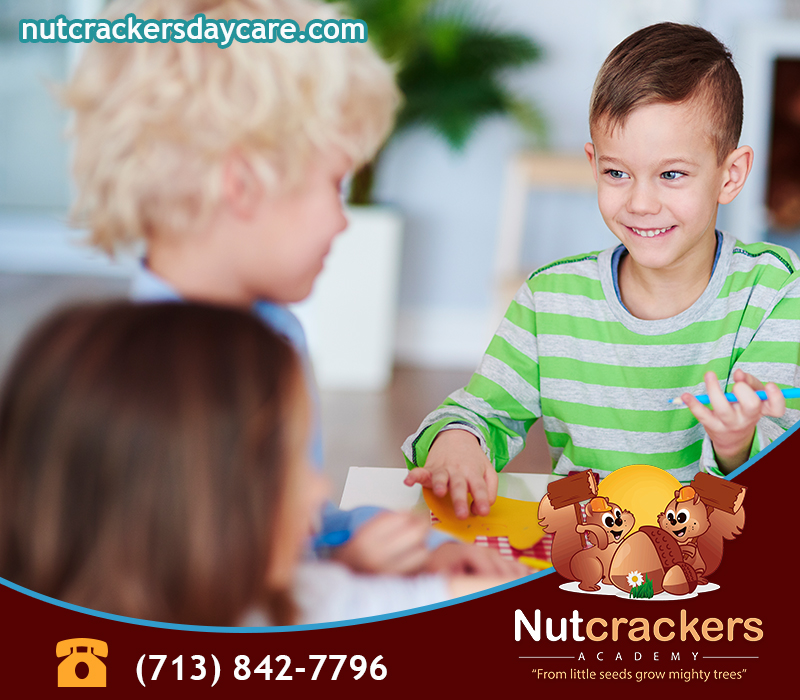 Daycare in Houston TX
Academy, Children, Infants 1, Infants 2, Toddlers, Preschool, After School, Child Care & Day Care, Best Infant Day Care in Houston, Best Child Care in Houston, Childcare in Houston, Daycare & Preschool, Child Care Service Houston, Preschool Houston, Best houston preschool, educational preschool, preschool education, preschool in houston, preschool programs in houston, preschools in houston, Houston preschool, Houston Child care, Houston childcare, Houston daycare, Houston Infant Care, Houston after school care, preschool in Houston, Child care in Houston, childcare in Houston, day care in Houston, daycare in Houston