How Does Play Help Children's Development?
Before I extend on group's definition of play, I would like to state my own theory about play, and explain what I mean stressing again, that play is basically indefinable because of its flexible and vast nature.

My theory is that play is fluid. It can take many forms, have many meanings, express itself in many ways, but it cannot be contained in a box or shape and labelled as 'play'. If play is taken out of one context and into another it changes its shape and purpose, and the way it moves and performs. All of it is play in its many facets, and all of it is of equal value, because it meets the differing needs of the child at the time it is being played.

Free-flowing play can be limited by obstacles such as time, adults, relationships, routines, outcomes, interferences, circumstances, environment, or disability, and may not flow in the natural direction a child may wish to take it if limited by any of the above obstacles. However, because play is fluid, it can continue where it was left, or be restarted and flow in entirely different direction if obstacles do not restrict play.

Play is as an important of children's developmental journey - it becomes a tool by which children learn to develop in a holistic manner, it enables them to understand themselves, other people, their community and the world around them. Play also enables children to act out experiences, past and present, and enter into fantasy worlds. Bruner believed that play is process-led rather than task orientated, but also believed it prepares children for adulthood. (Fisher 1996:97) We are all on a lifelong journey and the journey, and the journey for me may be different to your journey. We may start at the same place, but go in different directions, and we may meet again but be different people, because life (and play, as part of that process) shapes the people and character we become. The journey of developing and learning is a long, slow, and ongoing process throughout life - a developmental journey which starts at birth and finishes at death, and play in its many fluid forms, becomes part of the process.
source: Ezine Articles
Nutcrackers Daycare Academy We are a family owned and operated academy that provides children with a strong foundation to begin their lives. Our teachers are highly trained and extremely attentive to support your child's desire to explore and discover. Our passionate staff values the relationships we have with our families and work hard to involve them in all our activities and decisions. Our facility provides an openness inside and out for a child to feel free to explore, create, and learn in a safe, loving and developmentally appropriate environment. Contact at 713-842-7796.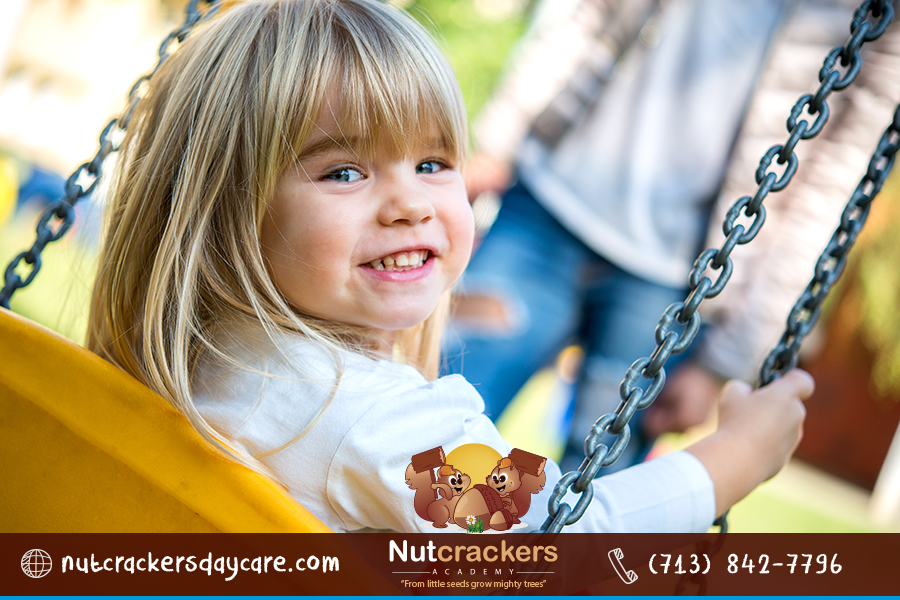 Daycare in Houston TX
Academy, Children, Infants 1, Infants 2, Toddlers, Preschool, After School, Child Care & Day Care, Best Infant Day Care in Houston, Best Child Care in Houston, Childcare in Houston, Daycare & Preschool, Child Care Service Houston, Preschool Houston, Best houston preschool, educational preschool, preschool education, preschool in houston, preschool programs in houston, preschools in houston, Houston preschool, Houston Child care, Houston childcare, Houston daycare, Houston Infant Care, Houston after school care, preschool in Houston, Child care in Houston, childcare in Houston, day care in Houston, daycare in Houston