How to Find a Good Daycare For Young Kids
First things first. You need to do your homework before you choose a daycare center for your child.

Location:
Where do you want the daycare center to be located. Some may find that a daycare center closest to their home is convenient. While others may want a center which is closer to their workplace, so they always feel they are at hand. Whatever your decision, stick to it. Think of the long term. You don't want to pluck a child from the center where he has already acclimatized, and place him in another one because you changed your mind.

List your options:
It is a good idea, once you have decided on the location, to find out the number of daycare centers in the vicinity and make a list. Tick off the ones that don't appeal to you eventually and keep the remaining up for a review. It will make your task a lot easier and organized.

Research:
The power of a good research cannot be underestimated. Find out everything you need to know about a daycare center. Who will be the child's caretakers? Are they qualified and competent enough? What is the ratio of adults to children and do they adhere to it? Is there a pediatrician on their roll, in case of emergency? These questions will assist you in gaining a clarity, with respect to the kind of childcare a particular center provides

Food:
We take utmost care to maintain our child's nourishment. Find out what kind of food are they providing for the kids? Is it nourishing and fresh? Some daycare centers do not provide the food for their wards. You have to take care of that aspect. Will you be able to send freshly cooked food with your child? Answer this question before you sign up for their services.

Games:
Games are a vital part of your child's overall mental and physical development. Most daycare centers have a stock of games with them. However, it is important to find out what material the games and toys are made of. Are they made from non-toxic and child-friendly materials? Do they have small detachable parts that can be swallowed by a small child? A daycare center's attention to such details, only points to their greater efficiency and foresight.

Activities:
Some daycare centers chalk out a curriculum, where they formulate a number of activities for the kids. While this is not entirely unwelcome, and can seem somewhat enticing in the beginning, make sure that they are not too rigorous about sticking to it. Whatever activities they have should be easy, and should not put an undue amount of stress on your child. Some incorporate water play and sand play in their list of activities. Some take the children on supervised outings to gardens, vegetable and fruit markets, and other such public places. Finger painting, and crafts are generally enjoyed by all kids.

Hygiene:
See if the daycare has an hygienic environment. Do not stress on a zero-bacteria environment. But make sure that the daycare center has at least practicable amount of cleanliness. Do they instill healthy habits in children like washing their hands before meals? Children imbibe a lot from their everyday situations, and such things go a long way in making responsible adults.
source: Ezine Articles
Nutcrackers Daycare Academy We are a family owned and operated academy that provides children with a strong foundation to begin their lives. Our teachers are highly trained and extremely attentive to support your child's desire to explore and discover. Our passionate staff values the relationships we have with our families and work hard to involve them in all our activities and decisions. Our facility provides an openness inside and out for a child to feel free to explore, create, and learn in a safe, loving and developmentally appropriate environment. Contact at 713-842-7796.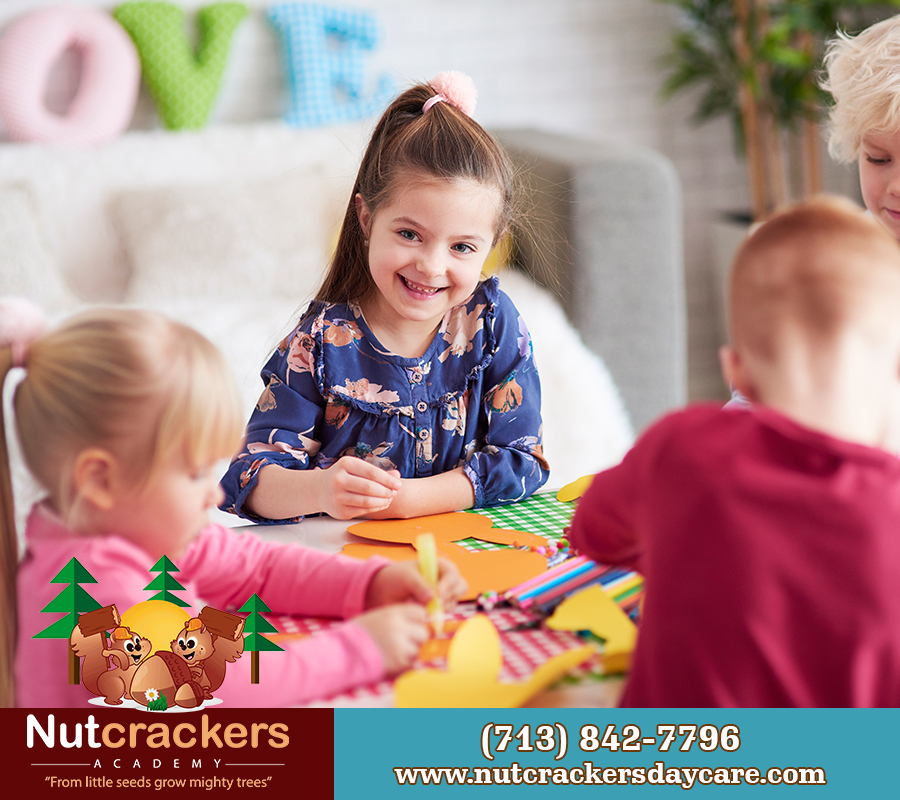 Daycare in Houston TX
Academy, Children, Infants 1, Infants 2, Toddlers, Preschool, After School, Child Care & Day Care, Best Infant Day Care in Houston, Best Child Care in Houston, Childcare in Houston, Daycare & Preschool, Child Care Service Houston, Preschool Houston, Best houston preschool, educational preschool, preschool education, preschool in houston, preschool programs in houston, preschools in houston, Houston preschool, Houston Child care, Houston childcare, Houston daycare, Houston Infant Care, Houston after school care, preschool in Houston, Child care in Houston, childcare in Houston, day care in Houston, daycare in Houston