Factors that Influence Language Development
Language development is even more impressive when we consider the nature of what is learned. It may seem that children merely need to remember what they hear and repeat it at some later time. But as Chomsky1 pointed out so many years ago, if this were the essence of language learning, we would not be successful communicators.
Verbal communication requires productivity, i.e. the ability to create an infinite number of utterances we have never heard before. This endless novelty requires that some aspects of language knowledge be abstract. Ultimately, "rules" for combining words cannot be rules about particular words, but must be rules about classes of words such as nouns, verbs or prepositions.
Once these abstract blueprints are available, the speaker can fill the "slots" in a sentence with the words that best convey the message of the moment. Chomsky's key point was that since abstractions cannot ever be directly experienced, they must emerge from the child's own mental activity while listening to speech.
source: Encyclopedia on Early Childhood Development
Nutcrackers Daycare Academy We are a family owned and operated academy that provides children with a strong foundation to begin their lives. Our teachers are highly trained and extremely attentive to support your child's desire to explore and discover. Our passionate staff values the relationships we have with our families and work hard to involve them in all our activities and decisions. Our facility provides an openness inside and out for a child to feel free to explore, create, and learn in a safe, loving and developmentally appropriate environment. Contact at 713-842-7796.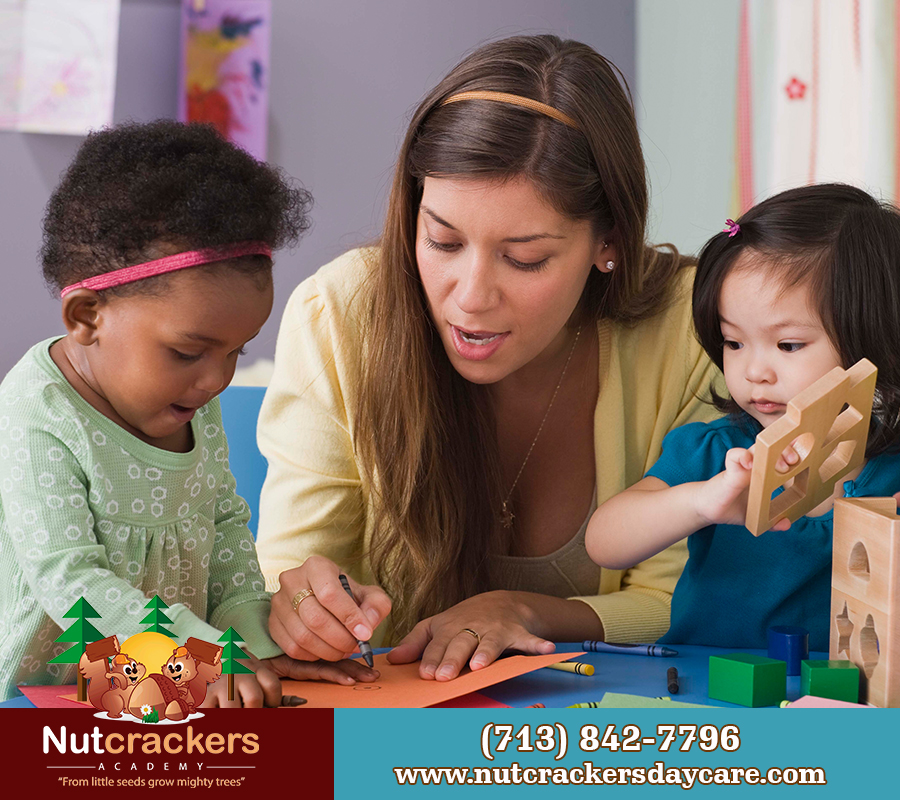 Daycare in Houston TX
Academy, Children, Infants 1, Infants 2, Toddlers, Preschool, After School, Child Care & Day Care, Best Infant Day Care in Houston, Best Child Care in Houston, Childcare in Houston, Daycare & Preschool, Child Care Service Houston, Preschool Houston, Best houston preschool, educational preschool, preschool education, preschool in houston, preschool programs in houston, preschools in houston, Houston preschool, Houston Child care, Houston childcare, Houston daycare, Houston Infant Care, Houston after school care, preschool in Houston, Child care in Houston, childcare in Houston, day care in Houston, daycare in Houston