How frequent are language problems in the early years?
Talking is an important milestone in children's development.
Most children will know how to say 100 words by the age of 21 months and will start to combine these words into short sentences before they are 2 years old. Unfortunately many young children fall behind these milestones.
Children who have limited expressive vocabulary (less than 40-50 words) at 24 months and make no word combination are identified as "late talkers." About 8-12% percent of North American preschool children and 12% of children beginning school have language delay. Of these, 25-90% are diagnosed with a reading disorder – a problem that goes on to affect 10-18% of all school-age children.
The frequency of language problems and its impact on literacy and reading later in life speaks to the need for early intervention as soon as speech problems are detected.
source: Encyclopedia on Early Childhood Development
Nutcrackers Daycare Academy We are a family owned and operated academy that provides children with a strong foundation to begin their lives. Our teachers are highly trained and extremely attentive to support your child's desire to explore and discover. Our passionate staff values the relationships we have with our families and work hard to involve them in all our activities and decisions. Our facility provides an openness inside and out for a child to feel free to explore, create, and learn in a safe, loving and developmentally appropriate environment. Contact at 713-842-7796.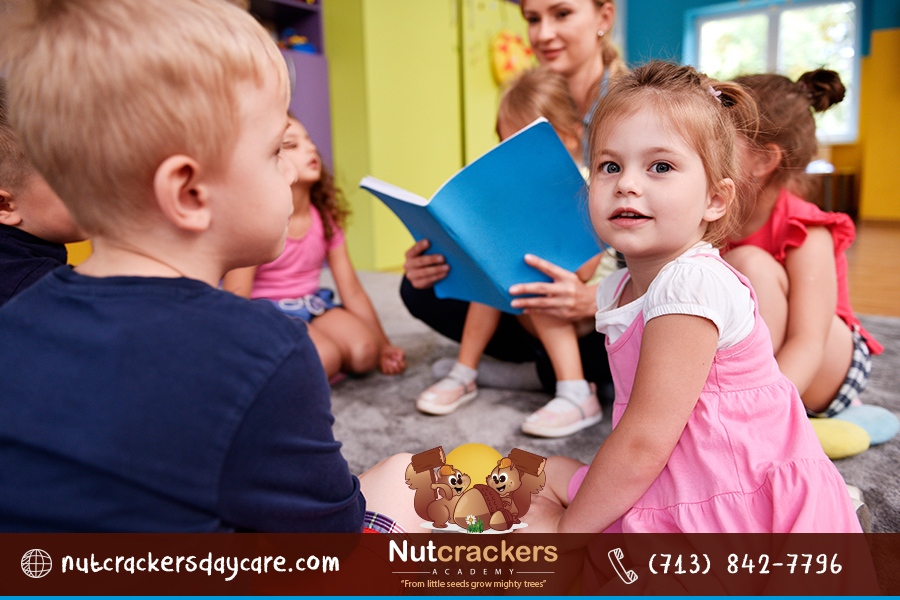 Daycare in Houston TX
Academy, Children, Infants 1, Infants 2, Toddlers, Preschool, After School, Child Care & Day Care, Best Infant Day Care in Houston, Best Child Care in Houston, Childcare in Houston, Daycare & Preschool, Child Care Service Houston, Preschool Houston, Best houston preschool, educational preschool, preschool education, preschool in houston, preschool programs in houston, preschools in houston, Houston preschool, Houston Child care, Houston childcare, Houston daycare, Houston Infant Care, Houston after school care, preschool in Houston, Child care in Houston, childcare in Houston, day care in Houston, daycare in Houston