The Importance of a Collaborative Teaching Environment for Preschool
Every parent knows the old saying, "It takes a village to raise a child," is absolutely true. While there are many important factors to consider when it comes to choosing a preschool with an outstanding reputation, collaboration and communication have become essential priorities for many parents—and for good reason.
Great preschool teachers understand the value of collaboration. Young students are best prepared for elementary school when their preschool teachers work together with families, other staff members, and supervisors.
3 Ways Collaborative Teaching Plays a Key Role in Early Education
Here are four specific ways a collaborative environment helps create the best possible setting to help toddlers and preschoolers develop:
Collaboration is essential for providing customized care for each child. A collaborative teaching environment ensures that teachers can identify and understand the individual differences in growth and background for each child. It ensures that the specific needs of each child and family are met.
Collaboration is key for an effective relationship between parents and teachers. A collaborative teaching environment actively involves each family in planning and decision-making regarding their child's individual development and learning needs. Regular and consistent communication about your child's progress isn't just a valuable asset for parents, but it also benefits teachers as well.
Collaboration enhances the developmental skills children learn. Helping children acquire life skills requires just as much collaboration as more academically-focused lessons. Take potty training for example. This milestone requires a significant amount of collaboration between parents and teachers.
source: The Gardner School
Nutcrackers Daycare Academy We are a family owned and operated academy that provides children with a strong foundation to begin their lives. Our teachers are highly trained and extremely attentive to support your child's desire to explore and discover. Our passionate staff values the relationships we have with our families and work hard to involve them in all our activities and decisions. Our facility provides an openness inside and out for a child to feel free to explore, create, and learn in a safe, loving and developmentally appropriate environment. Contact at 713-842-7796.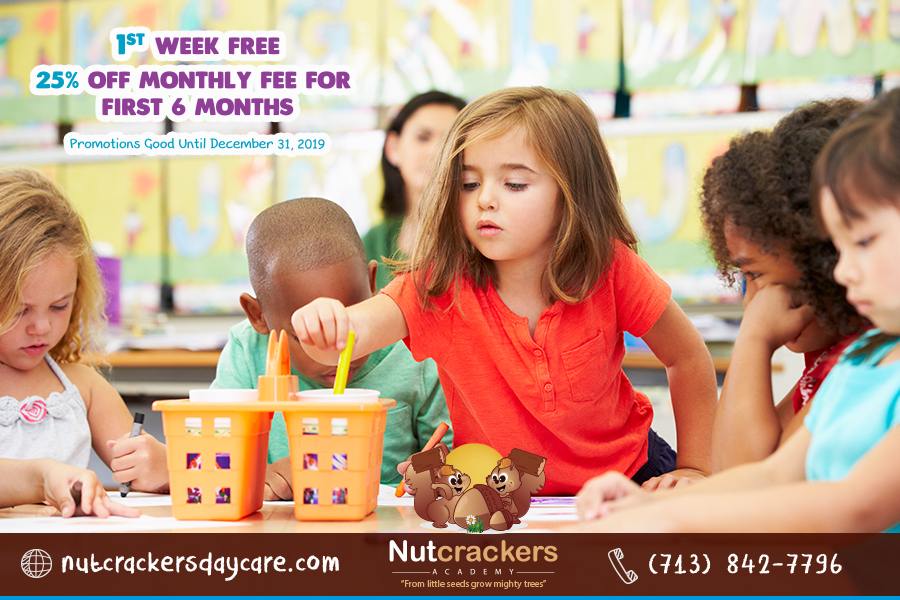 Daycare in Houston TX
Academy, Children, Infants 1, Infants 2, Toddlers, Preschool, After School, Child Care & Day Care, Best Infant Day Care in Houston, Best Child Care in Houston, Childcare in Houston, Daycare & Preschool, Child Care Service Houston, Preschool Houston, Best houston preschool, educational preschool, preschool education, preschool in houston, preschool programs in houston, preschools in houston, Houston preschool, Houston Child care, Houston childcare, Houston daycare, Houston Infant Care, Houston after school care, preschool in Houston, Child care in Houston, childcare in Houston, day care in Houston, daycare in Houston